Highlands Butterflies and Bug planters
-story and photo by Cindy Westley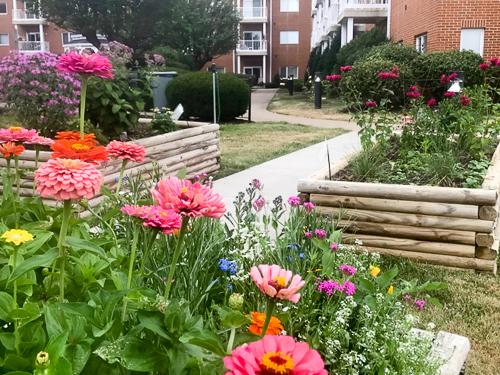 The Green Committee FLOB MOB (For the Love of Butterflies and Bugs) workgroup planted five boxes at the Highlands.

Two boxes (#6 & 7) have native plants as a demonstration what can be planted to attract pollinators.  Residents (and staff) are urged to consider using native plants in their own backyard or balcony gardens.  Growing native plants not only adds beauty but also is an important home for pollinators.  All flowering plants including vegetables need pollinators.  It is also fun to see bees, birds, bugs in action.

One box (#13) has herbs.  Folks are encouraged to take small clippings for their salads or cooking.  Two boxes (#10 & 15) have flowers that attract pollinators and can be cut for small bouquets.  All the boxes have information signs and labels.  If you have any questions, please visit the Green Committee App on Touchtown's Resident App.