Granddaddy's Putting Green
Granddaddy's Putting Green has been a fixture at Sunnyside for over 30 years. It's located just outside of the Highlands, and was given in memory of Henry W. Anderson, Jr. by his loving family. On summer evenings the gazebo next to the green is a social mainstay, especially for Highlands' residents.
For those more interested in sport than in mint juleps, the green has been the locus of putting contests each week in spring and summer. Stan Gray, the late Dick Brown, and Shirley McCue constituted the committee that has overseen the logistics of the contests, which run from mid-April to September, depending on the weather. Stan explains that they "don't run contests when there's frost or snow on the ground, or if it's raining." Even stalwart golfers have to bow to the contingencies of Mother Nature. On the other hand, ice water is provided on the hot days of summer so the contests can continue in relative comfort.
Stan moved to Sunnyside four-and-a-half years ago and has been in charge of the putting contest for the past three years. Over time there has been a lot of interest in the contests, for they usually have an average of 10 to 12 golfers participate each week with another 15 or so spectators. As with all resident-led activities, Sunnyside has been supportive of the putting green and the contests, trying to keep the green against all odds in "immaculate condition" according to Stan.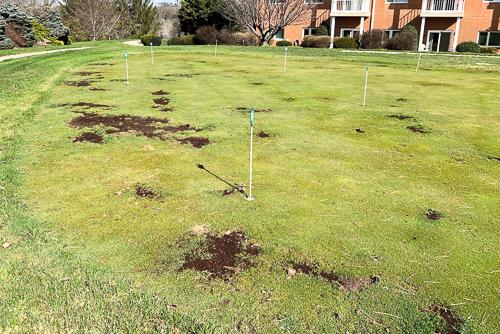 Recently, however, there has been a challenge to keeping the green in excellent shape, the main one being a mysterious browning—or even deadening—of the putting surface. Early in March the Buildings and Grounds crew spread some soil, fertilizer, and grass seed on these spots, so Stan remains hopeful that over time this maintenance will solve the problem. The green has an automated sprinkler system that should also help with this issue.
Another challenge involves human rather than natural resources. For medical reasons neither Stan nor Shirley can continue overseeing the golf contests, and without a Sunnyside resident to coordinate the contests, they might not continue. Stan emphasizes that the responsibilities are not onerous but consist primarily in showing up each Wednesday during putting contest season and providing scorecards, pencils, and even putters and golf balls should participants need them.
Although the putting green is not currently at its most prepossessing, Stan feels it's important to bring it back to optimum condition. For one thing, it can be an important part of marketing because prospective residents who golf are interested in a good area in which to work on their putting. Also, when the green was in better shape, a golf pro was invited to come and give instruction in chipping and putting. When the green is restored, perhaps these practical demonstrations and classes can continue.
If you're interested in helping to keep this popular Sunnyside activity going, please get in touch with Stan (8296) or Shirley (8682). It would be a shame to let it fall into desuetude!