The Tech Faire was a Hit!
The Tech Faire on Oct. 19
th
in the Bethesda Theatre, held from 9:30am to 11:30am, was met with much approval by residents and staff attendees.  Twelve tables showed a variety of devices and software that could be useful, interesting and, fun.  With an estimated attendance of 68 people, this first ever Tech Faire was well received.
Attendees at the Faire were able to see, touch, and even try out different types of devices that could be helpful to them.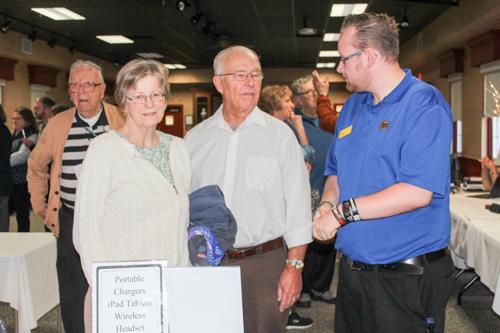 Eddie Crockett and Cody Neil from Best Buy had a display of several items, including a Google Home, a digital picture frame, a Jitterbug phone, a battery phone charger, and perhaps of most interest, a large screen Smart TV.  The last allows not only watching cable TV, but can also be set up to stream in media from Amazon, Netflix, YouTube, and other media services.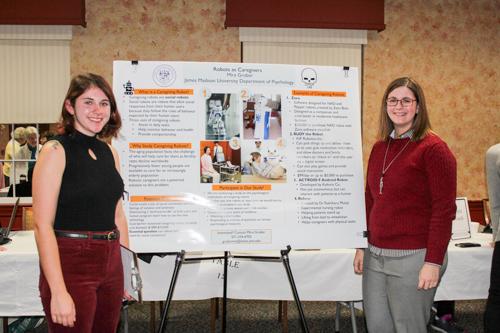 The James Madison University Robots as Caregivers, Mira Grubner and Dr. Lindsey Harvell-Bowman, provided a presentation on the possible future that robots could have in helping those needing more assistance with day-to-day tasks.  One popular area was the hands-on demo of Sunnyside's new virtually reality headset, where residents got to try out VR with the help of Don Oxley.  This headset will be available in the future for residents to try out; watch for more news on that in the future.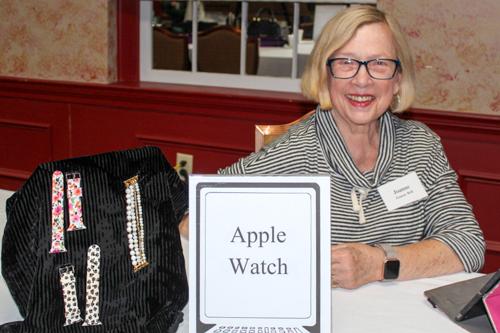 Demonstrations of much of the technology were by members of the Sunnyside Technology Club.  Joanne Bell showed the possibilities of an Apple watch, both for its usefully and its style. The is more than a watch, as it can provide access to a wide variety of information.  Those interested in seeing a Fitbit (which can count steps, heart rate, sleep patterns and more) visited Colleen Landis' table, where she also showed a magnetic phone charging cable, the Sunnyside Touchtown app, and encouraged trying on two different models of noise channeling headphones.  She and Sam Patterson had a Skype set up so attendees could try out that telecommunication application to talk across a room, although it is more often used to see and talk to people across the world.
Next door to Sam, Tom Harkins was demonstrating the wonders of the Amazon Echo products to play music, answer questions, and had a smart plug attached to Alexa so she could control other devices, such as turning on and off the lights.  Streaming media devices that attach to your TV were the focus of Pete Fundinger's table where he happily showed off capabilities of an Amazon Fire Stick, a Google Chromecast, and a Roku to see YouTube, Amazon Video, Hulu and other media channels.  This can provide streaming media access to older TVs so you don't need to buy a smart TV.  One item much asked for was 3D Printing and Bill Ingham had the device and several 3D printed objects to show off.   This is another item Sunnyside owns and it could be used by residents in the future to make their own items.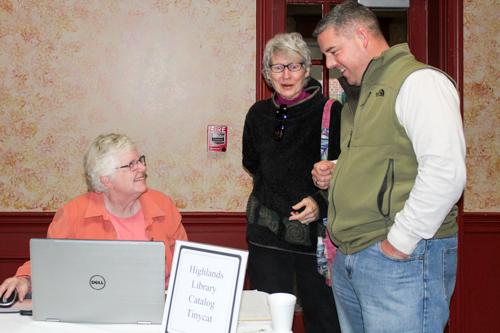 Devices were not the only things demonstrated at the Tech Faire.  Barbara Boothe provided an overview of the new TinyCat Library Catalog, which allows residents and staff to see what books are in the Highlands Library even from the comfort of their homes.  Linda Bradley answered questions about the resident website, Sunnyside-Times and with Mary Yarnell, also provided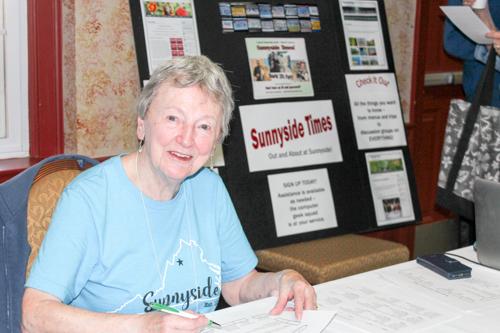 assistance to attendees with any question about the Faire.  They and Nancy Wayland for Sunnyside Marketing were wonderful greeters, providing a warm welcome. 
We want to say a special thank you to Charlie Lotts, who very kindly volunteered to drive the shuttle around Sunnyside and to Andrey Calomino who worked on publicity and proved the Sunnyside Times presentation.  You are the best!
And one final bit of news, the date is set for the next Tech Faire.  Please save Oct. 24, 2020 at 9:30am-11:30pm for Tech Faire 2.0 and let's see if we can get even more 68 attendees!
--Colleen Landis