Christmas Woodworkers
Fall is in the air, but the Woodworker's Club is focused on Christmas. These talented men (yes, women can join) get together this time of year to work on a project for the Salvation Army. The Salvation Army gathers gifts for children who may not be receiving a Christmas present.
And that is where our woodworkers come into play. Len Tulio is the leader of this merry band. Members participating this year are Len Tulio, Stan Gray, Mike Bollen, George Gibbs, Bill Hain. Don Oxley, Ron Senderling, Jack Robinson, and Don Wait.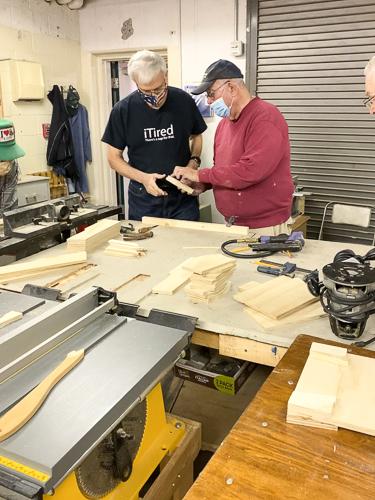 Now, let's just make sure our measurements are correct,
The club makes the cradles, others paint them, still others donate money for the dolls and other materials. This year, we will be looking for hand-made quilts and fleece blankets for the babies. On the appointed day, sometime in November, a representative from the Salvation Army comes to Sunnyside to collect the babies and their cradles.
The men are all talented and have improved the process over the years. In addition, they have worked hard to make the equipment easier to access and for them to have room to work. One thing I noticed. As I talked to each one of the woodworkers, they told me a little of their carpenter beginnings, but they all emphasized they do this for the camaraderie that has developed.
I love being a part of this project. It is a chance to get out of myself and do something for the community. Sally Meeth and Julia Bishop make sure everything comes together without a hitch. Everyone is so friendly, and they all have a great time. Anyone can participate. Donations of time and money are always appreciated, especially for wood, paint, blankets, and baby dolls.
If you are interested in this fun project, please contact Sally Meeth at 8533 or Julia Bishop at 8737.