What Do Antique Cars, Hot Dogs, Ice Cream, Music, Kitchenware, and Raffles Have in Common?
Why, they were all part of the 6th Annual Antique and Classic Car Show held right here at Sunnyside on Sunday, May 19, of course!  Nearly 90 antique and classic cars (and a Jeep, a truck, and an antique golf cart!) were on display for the several hundred visitors who arrived by golf carts and shuttles from campus and Massanetta Springs Conference Center parking lots.  Many of the car owners have participated in previous Sunnyside shows, including one owner who came back early from a week-end away in order to display his car.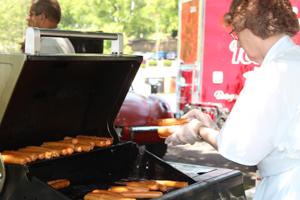 Linda Davis was the first person to arrive to begin preparing for the hot dogs that everyone loves.  Next came Steve and Leon to erect the tents and set up the tables.  By 11 am, Baard Grindal had parked his red 1969 American Motors AMX, closely followed by Lee Campbell's classic aqua 1957 Chevrolet Bellaire.  This year several staff persons also displayed their vehicles.  David Wigginton, husband of Karen Wigginton (the VP for Marketing and Communications with Sunnyside's Corporate Office), showed his antique beige Jeep, and Leon Conley from Building and Grounds brought a blue pick-up truck flying an American flag.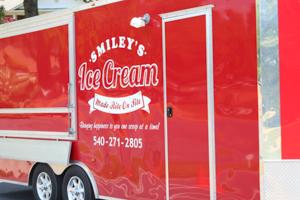 As you might expect, the shade trees, Smiley's ice cream truck, and rhythmic bluegrass music by The Hatcher Boys were most popular attractions! In fact, one 11-year-old boy named Dan came with his grandfather "Pop Pop" and was overheard to say, "We came last year, but this is a great year because you had a truck! Now where's the ice cream?"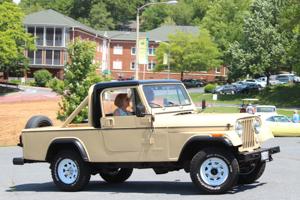 A 50/50 raffle was won by David Wigginton, who immediately donated his winnings of $151 to the Sunnyside Fellowship Fund.  The remaining receipts from the raffle, plus individual donations from visitors, resulted in a Sunnyside donation of $346 to the Alzheimer's Foundation.
A new feature this year was the Sunny Treasures Kitchenware Sale, held in the hallway just outside Sunny Treasures.  The sale was extended into Monday to allow week-end and evening Sunnyside staff to shop the many wonderful items.  According to Kay Stilwell, a total of $350 was added to the Sunny Treasures fund through this effort.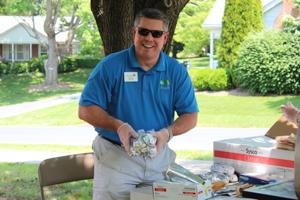 Josh Lyons, who turned out to be a really expert hot dog wrapper-upper, also made it a point to thank all of the volunteers and staff who helped make the event such a success, especially Linda Davis, the Building and Grounds crew, the many Sunny Treasures and shuttle volunteers, plus Nancy Wayland, Melanie Thomas, and Madison Westmoreland from Marketing.
To sum it all up, Mrs. Hatcher, mother to the Hatcher boys said, "What a beautiful afternoon.  You had it all – music under the trees, ice cream, and great weather!"  Needless to say, planning for the 7th Annual Antique and Classic Car Show will soon begin.
--Linda Bradley --Photos by Mary Rouse