Wellness Center Update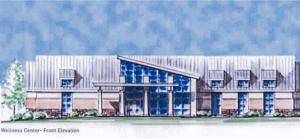 JMU and Sunnyside Retirement Community have much in common: 1) they are both places of learning; 2) they both have delightful campuses; and 3) they both have ongoing building projects. To support the last-named statement, one need only think of the 1912 Bistro and, very soon, a new Wellness Center.
NOTE: The architect's rendering of the front of the new Wellness Center we're including here is a conception of what the Wellness Center might look like—or it could be very different!
Plans are well underway to provide Sunnyside residents with new facilities for swimming, strength- and cardio-training, exercise classes, and walking. Refinements are currently being made to plans produced by the Mather Architectural firm. Residents have had great opportunities to have their ideas and preferences made known, through both extensive surveys and recent focus groups. On April 19th, a cross-section of 32 Independent Living residents saw a preview of things to come and was able to review architectural renderings of the exterior of the new Wellness Center, as well as detailed floor plans. In addition, they were able to review suggestions for the interior space presented by Pye Interiors, our interior designer.
Swimmers will be pleased to learn that the new pool is proposed to be 60' x 24'—this is known in the trade as "Senior Olympic Size"—and will dwarf the dimensions of the current pool, which is 34' x 16'. Locker room space will be similarly vastly expanded (from 250 sq. ft. to well over 600 sq. ft.) and will include a total of eight showers. An indoor track will wrap around the pool area—14 or 15 laps on this track will give the walker (or runner!) the distance of a mile.
The workout room for strength and cardio is currently undersized at 1,200 sq. ft. but will increase to 1,700 sq. ft. in the new iteration of the Wellness Center. The current room used for exercise, yoga, and more recently T'ai Chi will grow from 600 sq. ft. to about 1,066 sq. ft. And the new building will also include a space for massage therapy and a small conference room that can be used for arts and crafts. The total square footage for the new Center is proposed to be around 15,300 sq. ft.
The current plan is for groundbreaking to occur later this year, once plans are finalized, and construction should take the better part of a year. Please keep checking this space for more updates as the process continues!
--John Noffsinger