ETERNAL BLISTER
I knew at age six I was not cut out to be a cowboy after Granddaddy gave me a taste / pinch of his chewing tobacco. Most cowboys chew tobacco according to the older boys who had already mastered the habit. They could spit into a one-gallon can from ten feet away. Granddaddy had a big laugh after I recovered from my tobacco sickness and said, "Pardner, I never saw a green cowboy before." A few years later I tried a half of one cigarette and then a whole cigar. Tobacco had an awful taste, but I did like the cigar smell.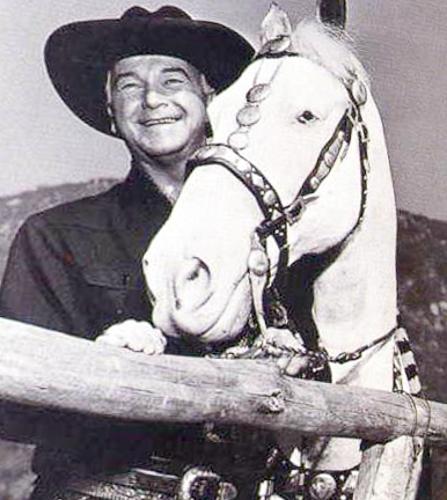 All of the boys had a favorite cowboy like Wild Bill Hickock, Roy Rogers, Gene Autry, and my favorite Hopalong Cassidy. As the story goes, ole Hopalong was wounded in a gun fight and limped for the rest of his days. He was a neat cowboy who always wore black shirt, pants, boots, belt, holster and hat. He carried two six-shooters and they were nickel plated with white ivory grips. His spurs and all of his buttons were also nickel plated. His white horse "Topper" wore a black saddle and bridle with nickel button trim. They were the cleanest man and horse team of them all and at an early age I believed that cleanliness is next to GOD lee-nes.
Mom had found me a Hopalong Cassidy lunch box with a picture of my hero and his clean horse Topper. That Christmas all of the boys got authentic cowboy suits, guns hats and boots, but nobody got a horse. My cousin in North Carolina did get a mean pony nobody could ride, named Trigger. He was a mean little devil. He bit one veterinarian and kicked another. By EASTER he had been traded for a garden tractor.
Christmas day all of we neighborhood boys dressed up in our cowboy outfits and gathered to play cowboys and Indians. We tried to get Joanne (girl next door) to be an Indian but she refused to be an Indian unless she could bring her new doll baby Betsy. We voted her and Betsy out. About ten years later we realized our mistake when she (now a pretty blonde) became our new Homecoming Queen. Even without Indians, we did play cowboys. Our replica six shooters were actually cap shooters that made smoke and noise. We had several gun fights and the fast draw contest over and over. The other boys began to complain that when shot I was supposed to fall down in the dirt. I simply refused to fall down and get my new suit and boots dirty. My hero never fell down because he always won the gun fight. Hopalong and Topper were always clean, and I was not going to tarnish their reputation. The rest of the boys were downright nasty, elbows of their shirts and knees of their pants were dingy! I agreed to play but falling down was out of the question. My Hopalong Cassidy suit was spotless until it was passed down to my brother,  who trashed it in record time.
About fifteen years later the United States Army dressed me up as GI Joe and they fully expected me to crawl in the dirt like a hog. They, of course, would not take no for an answer. I probably crawled a few hundred miles while learning to crawl in Basic Training. I was not fond of it. But I did learn that knowing when and how to crawl could save my life and it now comes in handy working on old trucks. For some odd reason, over half of the things that break are under the truck.
Then one June day in 2006 we retired and moved to a remote place named Highland County in the mountains of Virginia. A low population and wide-open spaces are the most pronounced features, and there are NO stop lights, just one blinking light at intersection of Routes 250/220.
Highland is a rural place where sheep, turkeys, cattle and hay are the crops of the farms / ranches in summer and maple syrup is the winter crop. The farmers who raise cattle remind me of when I was Hopalong Cassidy. They dress like cowboys with the hats, boots, guns and that awful chewing tobacco. Most of them keep and ride horses, but most of them also have a John Deere Gator, a six-wheel, off-road vehicle that will go anyplace and carry the chain saw and tools. They don't have gun fights and fall in the dirt, but they get dirty every day fixing fences and doing farm work.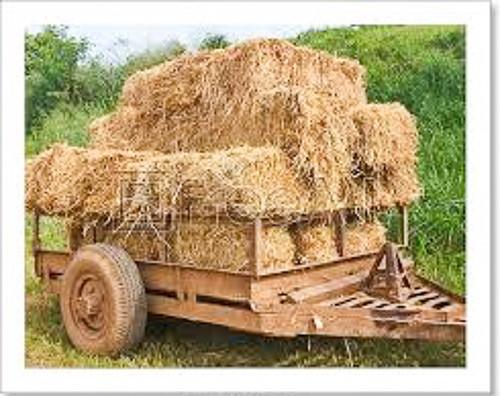 My invitation into their world came quick when my neighbor (a retired Marine) invited me to help get in his square bale hay crop my first summer. My job was to ride on the hay wagon and catch the sixty-pound bales of green hay as the baler spit them out. Then carry and stack them at the back of the hay wagon, the proper way so they interlock and do not fall off of the speeding wagon. Our crew consisted of the tractor driver (the best job), the bale handlers (us) on the wagon (the worst job) and my host the trail boss (no job- no work); he simply walked beside the wagon yelling. It was as near death as I never want to be again. The wagon was hooked to the baler which was hooked to the big clumsy John Deere tractor. The actual speed was probably less than fifty miles per hour but it seemed possible from my view, that day. In reality that John Deere would not do fifty miles per hour falling out of the sky, so it was probably just thirty miles per hour.
We struggled to catch the bales of hay and dance with them to the rear of the wagon. No doubt we looked like two drunks dancing with fat girls as we square danced back and forth trying to avoid being thrown off or knocking each other off the wagon.
The trail boss laughed as we fought to stay alive. He tossed a half-dead snake at me to test my reaction on one occasion. We filled three wagons with several hundred bales each while the boiling sun tried to cook us. Environmental conditions were deplorable, working conditions were deplorable. At the end of that day I was sore and disappointed the snake had not put me out of my misery. For my long painful day, I had earned a small bottle of water and a triple blister that to this day throbs when I see or smell hay.