Musings from Goldie and Me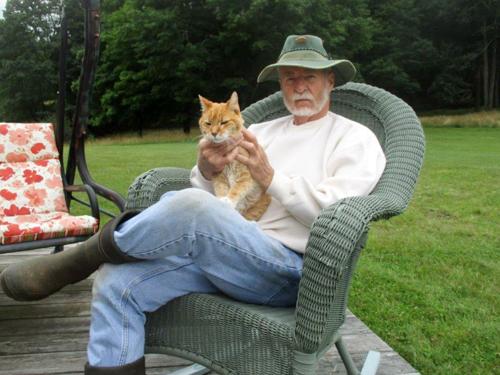 Me and this here cat put in a real day every day ... when we stop for a break, mom takes our picture ... May, June and July have really zipped by ... life is more fun these days … I can eat ice cream again.
We must put the car windows up and lock the doors this time of year when we go to town ... neighbors will fill your car with squash, cucumbers or whatever they have in abundance.  I will put the windows down again when the sweet corn is ripe.
Blue Berries are still coming in ... I'm eating those cobblers as fast as I can! Spotted baby deer everywhere, like lambs, running and playing in the yard.  I have to watch them … they will get into the garage and eat the donkey's sweet feed.
The weather has been delightful this week, 50 nights and 70 days.  The grass is in overdrive again … the neighbors are going full blast with the hay harvest ... whole neighborhood smells like fresh cut hay … just wonderful!
Time for our nightly Bible reading... windows are open … crickets singing … they will sing us to sleep.
Greetings from Highland County and the Creefs … Luddd and Peggy and Goldie