Meet Bill and Nancy Hain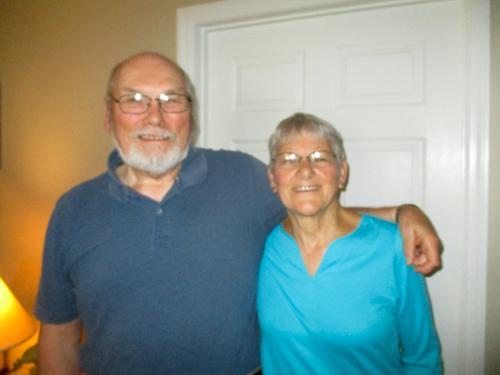 Greetings from Bill and Nancy Hain and rescue dogs Annie and Eddie, new Sunnyside residents this Summer of 2019.
Earning a place on Hickory Cove is a coveted award, as there are only thirteen houses in our Ozzie and Harriet neighborhood. Each year when we decorate our living Christmas tree, I look around and say, "Well, all we need is a lawyer." My tiny prayer has been answered. Bill Hain is a retired United States Coast Guard Attorney (JAG) who has had a very action-packed life of adventure with pay. He and his wife Nancy have traveled from his home place in Pennsylvania and her home place in California to see the world.
They were married at the Coast Guard Academy in 1968 – then off to part one of their life of adventure. They have two children – one daughter and a son, three years apart in age but born on the same day. Three tours in Alaska and a tour on the Coast Guard training ship EAGLE sound like a vacation, not work. The family dogs are both from Maine, Annie from Kittery, Maine and Eddie from Portland, Maine; they are both rescue pups.
Nancy is a very talented artist and her home is her gallery, where she shares the beauty of her talent with visitors. Nancy still paints. Bill had a tour in public education after retirement from the Coast Guard, teaching Government and History (which was educational for him too).
Once again Sunnyside has lured in wonderful neighbors for the rest of us to enjoy as we adjust to real, practical, enjoyable retirement. As I concluded the interview, I asked Bill what he would like to do with his time now? When he responded, "nothing legal," I knew why he had been selected for Hickory Cove; he no longer wishes to practice law. Then he smiled and said, "there is security in obscurity." The Hickory Cove score is now, 3 dogs, 4 cats.
--Luddd Creef