Meet Alan Evans and Cindy Westley of Glenside Drive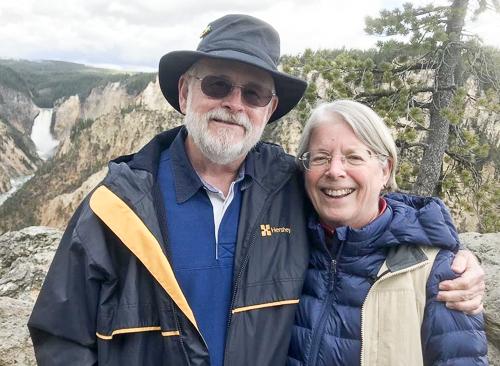 My husband and I have been at Sunnyside since mid-September.  We had been on the waiting list for a few years and when we saw the video tour of available houses we knew we had to make the move.  We sold the house we lovingly built in Afton right away to a nice young family.  We had fun picking out new wall and floor colors, redoing the kitchen and master bathroom, extending the mulch beds and making other tweaks to customize. 
Alan was born in Tarboro, NC and has lived in various towns in North Carolina, Texas and Indiana.  He served in the Army and is a Vietnam Vet.  He has a PhD in Psychology and has been practicing in Staunton/Fishersville for over 35 years.  He is an artist - stained glass and painting mostly and really enjoys having studio space here.  He is an avid reader.  He enjoys time with friends, furniture refinishing, listening to the waves at the beach and watching the mountains change with the day/season. 
I was born in Newburgh, NY and lived in Connecticut until moving to Charlottesville, VA.  I was a nurse at UVA.  My last job there for over 20 years was the Director of Patient & Family Education. Two highlights of my career - the development of a community advance care planning initiative and a preparation for surgery program (Virginia Bethune contributed her music).  I enjoy the outdoors - walking, camping, biking, gardening, etc.  I am a Master Naturalist so put on programs and address issues related to wildlife.  I am a lifelong Girl Scout. Last year we went to a Día de Muertos" program at the Mexico Girl Scout headquarters. 
We have enjoyed getting to know Harrisonburg and the surrounding area.  We moved to be in a community and closer to services.  We have friends in the area so it is great to be able to visit more easily.
--interview by Cindy Westley