Meet Bob and Gayle Tofferi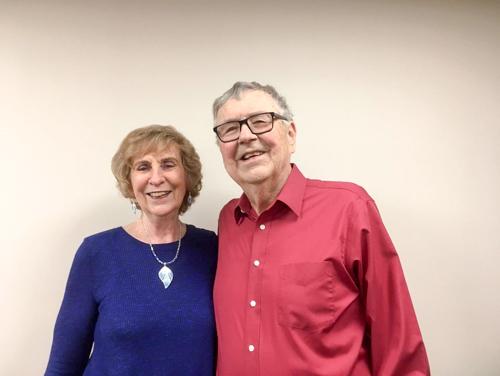 My sister LeDhu Tynes and her husband Larry have lived in downtown Harrisonburg since the '70s, so we were very familiar with the area and wanted to live in another university city. LeDhu and Larry had been to events here at Sunnyside and had been pleased but weren't ready for the Big Move! We didn't think we were either but living in a three-level house in Charlottesville for over 22 years, we wanted to plan ahead. With no master bedroom or full bath on the main floor, if something bad happened, it wouldn't have been easy to stay in that house.
We were familiar with most of the retirement communities in C'ville when visiting friends from time to time, so we didn't need more details. SS seemed to be the perfect match, so we narrowed it down to only two floor plans of a cottage. All of a sudden, the Perfect Cottage became available across from the Bistro. We put our house on the market and sold it in 5 days! Our cottage was stripped down and we got to make the choices, so it is like a brand-new house to us.
Our friends all asked us why we were ready to move and we told them that there is an Olive Garden here, (never got one in C'ville), so they thought that was funny and with several Going Away parties, we ended up with $250 worth of Olive Garden gift cards!
We couldn't be happier here at SS with great friends and staff and a lovely home on a big campus. We did well down-sizing except for a few things, which quickly went across the street to Sunny Treasures to a great cause. It didn't take us long to realize we could get rid of one of our cars and we haven't missed it.
Gayle - grew up in Mooresville, North Carolina close to Charlotte. She went to a business school nearby and Meredith College in Raleigh, NC. After marrying an Air Force guy, they moved to Oklahoma City for four years. Then they moved to Northern Virginia and had two sons. In 1982 she married Bob on Paradise Island in the Bahamas. He was an Army guy with two daughters. Gayle's two sons are married and live in Waynesboro and Northern Virginia and has our granddaughter. Gayle worked for General Services Administration in downtown DC for 20 years, commuting 30 miles a day with a carpool. Not fun.
Bob - grew up in Massachusetts and graduated from Northeastern University in Boston. He married and had two daughters and retired from the army, moving many times and ending up at the Pentagon. He drove a van shuttle to and from work. His two daughters' families are in Richmond with one granddaughter and in San Antonio with Bob's four grandsons.
We volunteered at three live theatres in C'ville, including the Paramount for over 18 years. We were very involved with the Newcomers Club the entire 22 years we lived there. We were in two military groups and the Civil War Roundtable as well. We had lots of social life in different ways.
We thought we would miss our friends and activities so much that Sunnyside would be a tough adjustment, but it wasn't. We were amazed how quickly we made friends when so many people came to the door with gifts and greeted us! We joined small groups and started walking almost every day and that helped us meet many new people as well. We do miss our friends from C'ville but see them from time to time when we drive over the mountain or they come to visit us. They are all very impressed with SS too. We thought we had a lot to do there, but SS tops it, for sure!
We've enjoyed traveling to 7 countries and we finally made it to our 50th state (Alaska) four years ago. This year we will be going back for the 4th time, since we are hooked! We enjoyed skiing for about 15 or more years all the way up the east coast, which gave us more places to visit. We enjoy seeing our neighbors walking their pets, but having no pets makes it easier to travel.
Bob is volunteering at the library, Gayle is working at the SS Treasures Gift Shop, and we are finding other ways to be involved as well – like welcoming new residents and other things.