Meet Sharon and Doug Pafford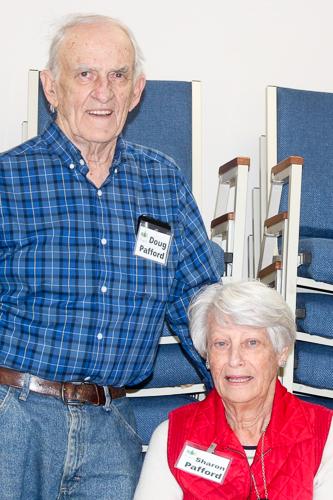 Sharon and Doug Pafford are new residents who live on Glen Lea Drive. Sharon was born in Point Pleasant, WV on the Ohio River, where her mother still lives at home. Doug was born in Atkins, VA (near Marion). They met at Marshall University and have been married 55 years. They have twins - Ken and his wife are in Bangkok, Thailand with the State Department. Meg and her husband and three children live in Northern Virginia.
Before college, Doug was in the Air Force Intelligence - based in Tripoli, Crete, and Germany. This led to employment with the CIA, based primarily in the DC area. Sharon taught 5th grade until she had children, and taught preschool while the children were growing. She then worked for the CIA.
One unique aspect of their career was working on a program that required learning to drive 18-wheelers to transport equipment for training exercises in various locations. It was an adventure.
Doug retired and they moved to Smith Mountain Lake in 1995. Sharon is a quilter, plays bridge, tennis, and likes to hike. Doug enjoyed tennis, woodworking, and hiking. He still participates in a Zoom book club at the Lake. Doug's legacy at Smith Mountain Lake is eradicating invasive weeds in the lake. They moved here after looking at many options, to have access to services and various levels of care.
They typically travel to West Virginia for holidays with family meeting at mom's house. Last year was very unique - they went to visit their son in Bangkok. There were many variations on typical Christmas decorations. Restaurants played Christmas carols and they had typical foods. A highlight was seeing the bridge over river Kwai. There are very few COVID problems there partly because people are so used to wearing masks in the smog.
Doug and Sharon are enjoying settling in and getting to know the small towns and trails in the area. They knew some folks from the Lake and connected with the EpiscoPals here right away.
Let's give Doug and Sharon a warm welcome to Sunnyside! --by Cindy Westley, photo by Mary Rouse