Becky and Jerry Morris - New Sunnyside Residents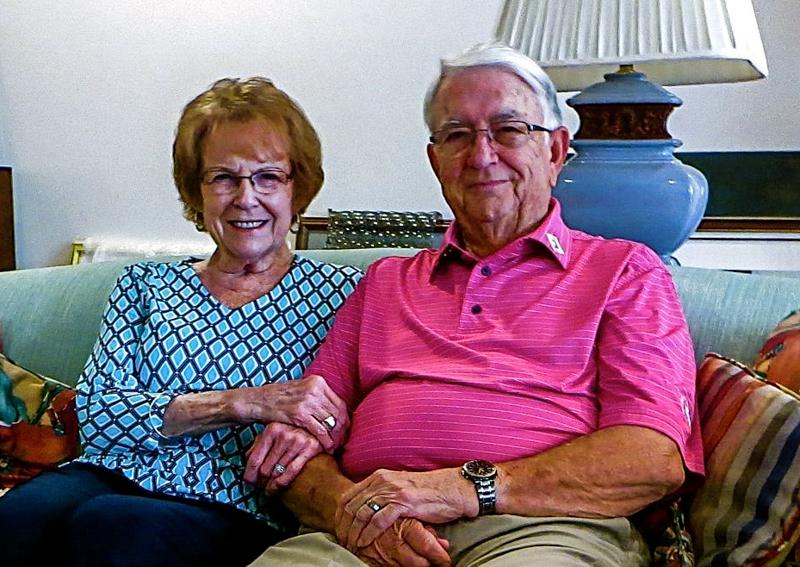 Becky and Jerry Morris arrived at Sunnyside last May, making their new home in the Grattan Price villas. They moved from Harrisonburg, where they had lived for fifty years and raised their family. They celebrated their 54th wedding anniversary this past August!
When they first moved to town, Becky and Jerry moved into an apartment development in the south end of town where they met a new friend. She is also here at Sunnyside and even living in the same Villa building - Bev Silver! Talk about "What goes around, comes around!!" With children about the same ages, they have seen the growth and changes in Harrisonburg for a whole half-century. And they are all three thankful to be here at Sunnyside.
Both Jerry and Becky come from the Great State of Texas. Becky grew up in Austin and studied at UT (University of Texas), during which time she met Jerry. They actually met on Christmas night, 1963 and married the next year. Jerry served in the Texas Air National Guard during those years and continued his service several years after moving to Virginia.
Jerry is an alum of TCU (Texas Christian University) in Fort Worth and studied Radio and Television Production. During college and for a while after, he worked at a local TV station. An amazing memory of Jerry's: With Dallas and Fort Worth being so close to each other, it so happened that in conjunction with his major studies, Jerry happened to be at the Parkland Hospital on that fateful day of November 22, 1963. How many more of us remember exactly where we were that day!
After employment at the TV station, Jerry stayed in the Fort Worth area, working for Packaging Corporation of America (PCA). Meanwhile, here in Harrisonburg, PCA opened a new plant. The Morris's had the opportunity to transfer to this new location and moved here in 1967. Several years later Jerry and an associate left PCA to start their own packaging company with a different clientele, Packaging Services, Incorporated. Jerry has continued to be active in the "box business" for the rest of his career, to the present. In the mid-nineties, he and two partners founded a warehouse business called "Interchange", locally and with locations in the Mid-Atlantic area.
Over the years Becky has shared both parenting and working with Jerry in their business. While being able to work from home, for twenty years she had extensive accounting and payroll responsibilities for their company. In earlier years she loved to play tennis – "until arthritis hit!" She treasures the friends she has made over the years through the Welcome Wagon program (which is no longer active in this area). Bridge is a favorite activity, and she loves the challenge of duplicate bridge! She also enjoys reading historical novels. Both Becky and Jerry are active members at Asbury United Methodist Church, and Becky is active with her Circle.
The Morris family has grown over the years. Becky and Jerry have two children – Ricky and Tracy. Ricky joined the Marines and served in Desert Storm in Iraq. He has a daughter and lives and works in Roanoke. Tracy graduated from Eastern Mennonite University and is a public school librarian in Waynesboro. She is married and has two sons. Tracy is a grandmother to her little granddaughter, and so that makes Becky and Jerry GREAT GRANDPARENTS!
When asked what their goals for living at Sunnyside might be – they LOVE being here and want to be able to participate and enrich the life of the Sunnyside community.
A HEARTY WELCOME TO JERRY AND BECKY MORRIS! -- Beverly Silver