Bob and Virginia Ravera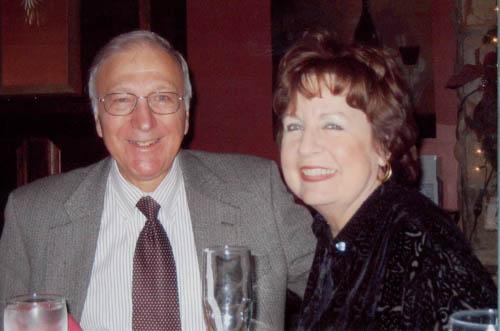 Virginia and Bob Ravera, who have been married for 51 years, moved to Sunnyside in February, 2018, from Bethlehem, PA. Virginia was born in Queens, NY, and grew up in Wantagh, Long Island. Bob was born and raised mostly in Brooklyn, NY, but finished his last two years of high school on Long Island. Virginia and Bob did not know one another at this point – in fact, Virginia was only 12 years old!
After high school, Bob returned home to his beloved Brooklyn to study engineering at Pratt Institute and lived on or near campus all four years. After graduating from Pratt in 1960, Bob accepted a graduate assistant position at Lehigh University in Bethlehem, PA and received an MS in Mechanical Engineering in 1962. Tired of the classroom at that point, Bob joined Grumman Aircraft in Bethpage, NY (Long Island) in June, 1962, as an engineer.
Bob was enjoying being a well-paid single (un-attached) engineer, and had a very lively social life including vacations in the Caribbean. Having worked so many summers at Grumman, he knew many people, and being close to the great Long Island beaches and NYC, there was always something to do.
Sometime in the late fall of 1962, Bob was sitting at his desk and during the official coffee break, a group of secretaries, including a very attractive newcomer, walked by, heading to the coffee machines. Bob tapped on the frosted glass partition separating his desk from the aisle, and the newcomer tapped back. She then walked into the office area, smiled, and waved at Bob before continuing on her way. She was gorgeous! Needless to say, Bob followed her to the coffee machines, introduced himself. She said her name was Virginia and that was that! In those days, the anonymity of internet dating was not needed!
This was no whirlwind romance for a variety of reasons. First, they were having too much fun! Virginia was also taking night courses at Hofstra University and then got a job at NYU and took courses there in the evening. In the meantime, at the urging of former colleagues and professors, Bob returned to Lehigh University in 1964 as an Instructor while pursuing his PhD. Virginia and Bob were married in August, 1966, and she moved from New York to Bob's apartment in Bethlehem, got a job at Lehigh University, and became a popular addition to the graduate student and faculty community.
Bob received his PhD in October, 1967, got a promotion to Assistant Professor of Engineering, and he and Virginia remained at Lehigh until June of 1968. By then, Bob had been recruited by Bellcomm, a Bell Laboratories company supporting NASA Headquarters and the Apollo Mission, so they moved to the Washington, DC area to begin their next adventure.
Bob threw himself into his job, thoroughly enjoying the engineering challenges of manned spaceflight. Virginia and Bob began many life-long friendships living in the Washington area. Just before Christmas of 1969, they adopted a beautiful baby girl, Michele. Four months later, Virginia got pregnant and gave birth to another beautiful baby girl, Elizabeth, on Christmas Eve, 1970.
Except for a very short assignment at Bell Laboratories in New Jersey and almost five years in the Boston area, where Bob served as Deputy Director and then Director of the Volpe National Transportation Center in Cambridge, Bob and Virginia spent most of their careers in the Washington area, living mostly in Northern Virginia. Bob worked for the U. S, Department of Transportation and the MITRE Corporation's Center for Advanced Aviation Systems Development. Bob retired from MITRE in 2002 as a Vice President. He received several awards for his achievements in research and engineering.
With the children mostly grown, Virginia went back to work. Given her interest in politics and government, she got a job in the Office of General Alexander Haig after he served as Secretary of State. She picked up the phone one day and a familiar sounding voice said "This is President Nixon, is the General in?" She then went on to become the Office Manager at Governor Mario Cuomo's Washington office. When Governor Cuomo was defeated in his bid for a fourth term, Virginia went on to work for Assistant Secretary of Housing and Urban Development, Andrew Cuomo, the current Governor of New York and Mario Cuomo's son. Virginia then joined mortgage giant Freddie Mac, and retired in 2004 as the Communications Manager for the Information Technology Division.
Sometime in the 1990s, Virginia and Bob started spending time at Bryce Resort and decided to buy a weekend home there in 2000. This is when they began to appreciate the beauty of the Shenandoah Valley. After Virginia retired in 2004, they decided to buy a permanent retirement home at Bryce and lived there until 2012. Again, they met so many wonderful people there who became life-long friends.
Nevertheless, wanderlust struck again. For a variety of reasons, they decided to move to Bethlehem, PA and they had an enjoyable three years in Bethlehem, getting into Manhattan often, seeing family more often, and meeting up with old Lehigh University friends. Unfortunately, Virginia suffered a stroke in January, 2016, and life changed dramatically. Virginia was in the hospital for almost three weeks, then in a rehabilitation hospital for a month, and then released to a skilled nursing facility in order to get additional physical, occupational, and speech therapy.
Virginia finally returned home in September of 2016, but she needed to have aides available through the day. After a lot of thought and discussion, they decided they needed the assurance that a continuing care community provides, so they returned to the Shenandoah Valley and in particular to Sunnyside. They had many friends from Bryce Resort living there and had often visited the campus in the past for social visits. They are happy to be here and are happy to be meeting new friends and seeing old friends. Let's welcome Bob and Virginia to the Sunnyside family!
--Audrey Calomino