Ben and Mary Cocker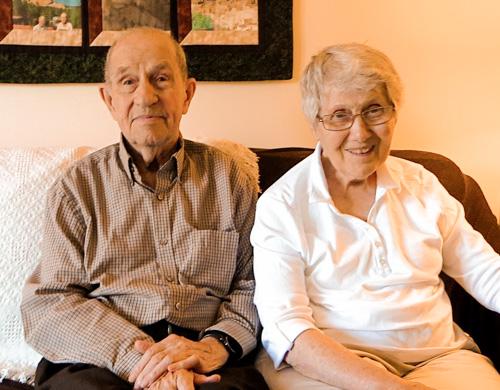 Ben and Mary Cocker moved into the Highlands on July 21, 2017. They have come from Fairfax City. Ben hails from the city of Hamilton in Canada, and Mary grew up in Arlington, VA. They met as young adults in Washington, DC, where both were working in their careers after college. In more recent years they traveled I-81 often, heading to Georgia to see their daughter. They passed through Harrisonburg and learned about Sunnyside. An enjoyable "Staycation" here four years ago was their introduction to our community and culminated in their recent move.
A love of snow and skiing led both Ben and Mary to join a DC area snow and ski club, and it was there that they first met. One place where they enjoyed that winter sport, especially downhill skiing, was at Canaan Valley in West Virginia. They married in 1961 and raised three children - a daughter who lives in Virginia, a daughter in Georgia, and a son who lives in Colorado. They have visited him often and love the so dramatic rugged Rockies, as well as the old gentle Appalachians.
Ben trained and apprenticed in the printing business in Canada and later, when he came to the DC area, began a career in printing at the U.S. Government Printing Office, in the Bindery Division. Among the many types of projects were printing and binding all the products associated with several national elections, as well as all the program materials for several presidential inaugurations. During his 28 years at the GPO, he was drafted and served in the Army during the Korean War. Ben and Mary raised their family in Northern Virginia.
When Mary chose her college, she did not go too far from home. She chose Mary Washington College, in Fredericksburg, VA. At that time it was a part of UVA and served as the woman's college of UVA. Her biology major studies led her into a relatively new and growing professional health field - Physical Therapy. She graduated in '55, and began working with patients with a spectrum of therapy needs. During that period there were opportunities to help children recovering from and adapting to the effects of polio, as well as infants and young children affected by the dramatic Thalidomide tragedy. She saw the whole field of Physical Therapy develop and expand into the important rehabilitation partner that it is today.
Mary and Ben are looking forward to meeting new friends and becoming active in the Sunnyside community. In Northern Virginia they enjoyed the OLLI affiliated with George Mason University, and Mary especially is pleased there is the JMU Lifelong Learning Institute in our community. She also hopes to have opportunities to take advantage of the resources of our local Massanutten Regional Library. Neither Ben nor Mary are driving any more, but hope that they will be able to get to know and go to some of the interesting places beyond the Sunnyside campus. Welcome, Mary and Ben Cocker! -- Beverly Silver