JOEL AND REBECCA GROW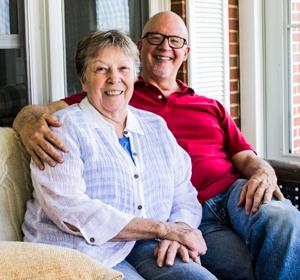 As Oscar Hammerstein II informs us in South Pacific, "Some enchanted evening, you may see a stranger across a crowded room . . . ." This helps to explain how new residents Joel and Rebecca Grow met. Not only that, but it was in New York City. And not only that, but Rebecca wound up both acting and directing on Broadway . . . and Joel was a singer involved in opera and musical theatre. Stay tuned.
Joel and Rebecca moved to Sunnyside in late March, on that memorable first day of spring when it snowed 5". For the past twelve years they had been living in Mathews County, on the shore of the Chesapeake Bay. Virginians by choice, they were both Midwesterners by birth. Rebecca was born and raised in Kokomo, Indiana, and Joel grew up outside of Akron, Ohio.
Rebecca attended Purdue, where her mother hoped she would "find a husband and settle down." Rebecca had other ideas, however—she majored in theatre and did graduate work at the Goodman School of Drama, then a part of the Art Institute of Chicago. For a number of years she lived and worked in Chicago. This included playing the role of Honey in Who's Afraid of Virginia Woolf?, for which she won the Chicago equivalent of a Tony Award. Still pursuing work in theatre, she moved to New York City, to Los Angeles, and then back to New York. Joel studied at The College of Wooster in Ohio. After that he attended LSU to study voice and was tapped to join the Gregg Smith Singers in New York, where an "enchanted evening" brought them together.
For twenty-five years they lived in and around New York City (the Upper West Side, the Bronx), teaching and working in various shows. Rebecca acted in Shakespeare's Twelfth Night and Tennessee Williams's The Night of the Iguana. Somewhere along the way in this busy professional trajectory, Rebecca also found time to teach acting at Michael Howard Studios and to found a "grassroots" repertory theatre company in upstate New York.
Meanwhile, Joel kept himself busy with musical theatre and "minor league" opera. His favorite parts to sing were Rodolfo in La Bohème, Cavaradossi in Tosca, and the Duke in Rigoletto. Once he hit his 50s, he was pleased to get "character parts" such as Arvide Abernathy in Guys and Dolls and Mr. Snow in Carousel. The role he wished he had gotten to play but never had the opportunity? Tony, in Frank Loesser's The Most Happy Fella.
Since their retirement, both Rebecca and Joel have remained busy. Rebecca took up watercolors and was thrilled to find an art studio in the basement of their Sunnyside cottage. Joel is an avid reader and also has studied T'ai Chi.He graciously agreed to lead (not "teach") a class in T'ai Chi at Sunnyside—this will meet at 9:30 on Mondays in the Wellness Center.
Rebecca and Joel feel their move to Sunnyside has been "serendipitous." They come here with admirable goals, primarily to find some serenity. When Joel is asked how he sees his life now, he replies, "I'm a seeker of stillness."
--John Noffsinger