A Warm Hello to John and Ann Speer!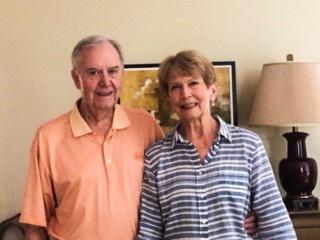 I just spent a most delightful afternoon meeting John and Ann Speer, who moved from Huntington, West Virginia to 1240 Glenside Drive over the Memorial Day week-end. That move, although carefully planned, was certainly eventful. John and Ann were to attend a grandson's college graduation from Miami University of Ohio, then continue on with one of their daughters for their move to Sunnyside. During this time, though, a couple of major family medical emergencies intervened and necessitated some last-minute shifting of responsibilities, resulting in extra help from their children and a Belgian Rotary exchange student they hosted 30 years ago and who is now living in northern Virginia. However, all turned out well, they attended the graduation, they made the move on schedule, and they are thoroughly enjoying their new home and community. John noted in particular that several neighbors came over on Day Two with some delicious bread and a tasty strawberry pie!
Now to the basics – John grew up in Anderson, South Carolina. He graduated from the University of South Carolina with a degree in mechanical engineering. After spending three years in the Navy, he worked for three years for American Standard in Charlotte. Ann, a native of Huntington, West Virginia, went to Queens College in Charlotte. In the "small world" category, Ann was a suite mate with Roxana Atwood for three years at Queens, and now they find they are living next to each other at Sunnyside!  But wait! There's more!  Turns out that John and Jim Kellett were both undergraduates at the University of South Carolina at the same time - Jim graduated in 1957, John in 1959.  John discovered that by recognizing the unique USC ring on Jim's hand!
Ann returned after graduation to work in the Queens College Admission Office and met John on a blind date. After their marriage, they moved to Huntington where John worked for several years in Ann's father's company. He eventually took a job with AAA. He retired as a regional president for a six-county area after 21 years. Ann spent her Huntington years as a wife, mother, and homemaker and enjoyed many volunteer activities. In particular, she served on the board of the Huntington Symphony Orchestra. Again in the "small world" category, that was where she met Pat Bertoia. Pat came along when John and Ann made a trip to look at Sunnyside, fell in love with it herself, sold her home, and moved to Sunnyside a month before John and Ann did!
John and Ann have three children and five grandchildren. Daughter Jenny serves as director of the Arts Council of the Valley here in Harrisonburg and has two children. Daughter Ann lives in California and has three children. Son Jay is a second-grade teacher who lives in Orlean, just outside of Warrenton. One of their granddaughters is a rising senior at JMU majoring in music and theatre, so they are looking forward to attending her performances in the coming year. John is also looking forward to playing golf again on the Lakeview course where he has played in the past with his grandson.
When I asked John if he would share something interesting that others might not know, he took me to two pictures hanging near their front door. One was a photograph of a beachfront in Nice he had taken in 1956 while in the Navy. The second was an artist's painting that Ann had found years later of that very same beach – boats, people, buildings – all positioned exactly the same as in his photograph! She gave John the painting as a Christmas gift, and it has brought him much joy and fond memories.
In response to the same question, Ann disappeared and then returned with a Star magazine from 1999. It seems that her California son-in-law had invited her to attend an Emmy awards evening. Of course, part of the fun was dressing up in formal clothes and walking the red carpet into the theater. Well, a day or two later, her daughter excitedly called and said that Ann was on the front cover of Star magazine, standing behind three "stars." Needless to say, the front cover of that Star magazine is now framed as a memory of a wonderful evening!
Please give a warm welcome to John and Ann as you see them around the Sunnyside campus!
--Linda Bradley