John and Kate Seaton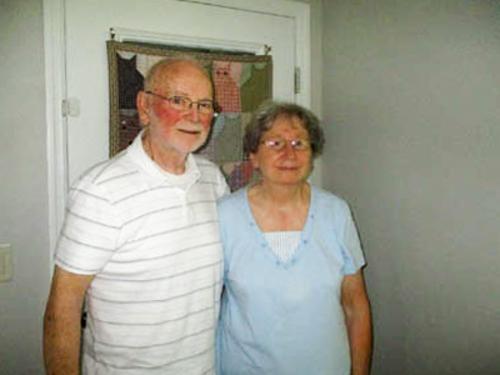 Hello!  We are the Seatons... John and Kate (and Isabelle the seldom seen gray tabby cat).   We just moved into 1120 Hickory Cove and we are still getting to the bottom of the boxes.
Our story begins in Washington, DC where a local boy met a pretty girl from Denver, Colorado when a group of us went to an amusement park just to have fun and see the sights. The chemistry was compatible, and our dates turned into love and marriage and a wonderful life together. We have two daughters who live in Virginia…
John had a life-long love affair with airplanes and recorded 10,000 hours of flight time in an assortment of United States Air Force Aircraft that he learned to love. One of his favorites was the C 140 Jet Star, a four-engine beauty that would kick along at 440 knots. In addition to his flying duties, John was also qualified to supervise Air Traffic Control (ATC) sites and keep them ready for the sudden changes in world affairs.  One of his tests was the Berlin Crisis when many small airfields became bustling air fields in a matter of hours.  John also served in Vietnam keeping the ATC system up and ready during the war.
After his last tour in the Pentagon, following 20 years of flying, John retired and opened an auto repair business in Tysons Corner, Virginia. He ran the business for ten years, then decided to actually retire.
Kate has a hobby that is a mixture of art and craft – she is a quilter and has already met some of the quilters on campus. She enjoys history and really likes the mountains. Part of their decision to select Sunnyside was the pretty mountain views in almost any direction.
John and Kate did their homework and visited quite a few retirement communities for about ten years.  They attended the recent Hickory Cove Picnic and had a chance to meet and greet the whole street.  We assured them that they chose wisely. 
Welcome aboard John, Kate, and Isabelle. But don't expect to see Isabelle; she is a covert cat.  Cheer up kitty; the cats out-number the dogs on the Cove!
--Luddd Creef