Meet Carolyn Suffern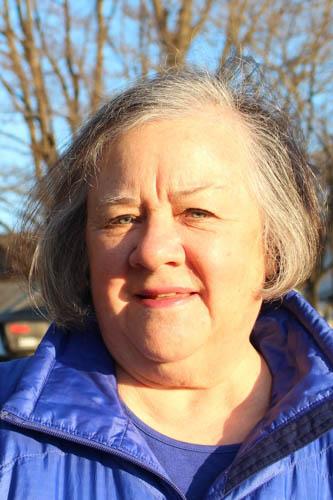 Carolyn Suffern's parents lived a small country house on four acres in Westport, CT, when she was born. When she was four they moved to Evanston, IL for two years – it was there swimming in Lake Michigan she contracted the polio that affects her life now. When she was in first grade they moved to Johnstown, NY, where her father established the chemical manufacturing business he ran for almost the next fifty years.
Carolyn went to Walnut Hill School in Natick, MA, Smith College, and Penn State. She has a bachelor's degree in Art History, plus some graduate work. She is the mother of identical twin sons who live in Canton, CT, and Washington, DC.
Some of Carolyn's jobs have included being a social coordinator for PR events mainly involved with the football program for the president of Penn State; working as a campaign fundraiser for United Way; and being assistant manager of the Museum Shop at the Mark Twain House. When her sons went to college, she switched over to the insurance industry, working for Cigna at their home office outside Hartford, CT.
When Cigna sent her job to Phoenix, she chose severance and moved to Knoxville, TN, a university town on a river near the Smoky Mountains to be in a place with lower taxes and less snow. There she worked as account manager for the State of TN account for John Deere Health, in which she was responsible for 63,000 people employed by 365 agencies across 45 counties. Part of her job was to drive around visiting these agencies in beautiful East Tennessee, and she retired from this job.
Carolyn had read about Sunnyside years ago just browsing the internet looking at Presbyterian retirement homes. In 2018 she was extremely sick with the flu and realized she needed to get herself someplace where help would be available if/as her health really declined. From having her parents in an assisted living facility, she knew the importance of a continuum-of-care. In her sickbed nightgown, she went back on the internet to look more closely at Sunnyside!
Carolyn called the lovely Nancy Wayland, who advised her of the very low fee needed to get on the waiting list. She wrote out her check that day, put a coat on over her nightgown, walked to her mailbox and mailed her check to Sunnyside. Continuum-of-care, this campus, proximity to a university town – what more did she need? Carolyn says, "This probably was one of the best decisions I have made in my life! I know a lot is in place here for when I need it, but for now the cleaning help and help from the B&G guys seem like pure luxury, let alone all the activities, great people, etc.!"
Carolyn's mother and brother died within three months of each other in 2014. It took her over three years to clear their houses. The entire job fell to her. She now is working through her own stuff plus what she kept of theirs. "As I settle in here, I am pleased to know I won't have to do this again, but what a job!" (Linda: I think we ALL can relate to that!) When she is done, she looks forward to having time to finish transcribing some family journals and to organize Suffern family documents to be able to share their history. (Suffern, NY is part of the tale.)
Carolyn lives with Kitty, the geriatric opinionated funny cat she inherited from her brother, who lived on a beautiful peninsula in Salem, NH. (Kitty is in charge here!)
She also looks forward to having time to paint, probably oil paints but she might try watercolor too.
Carolyn lives in the former "Staycation" cottage on Locust Circle. Many people have stayed here or know someone who did. She invites, "Please feel to come visit – just knock on the door. When the weather is better we can sit on the porch to watch the world go by!" --Carolyn Suffern and Linda Bradley --Photo by Mary Rouse