MEET CHARLIE AND JANET CROW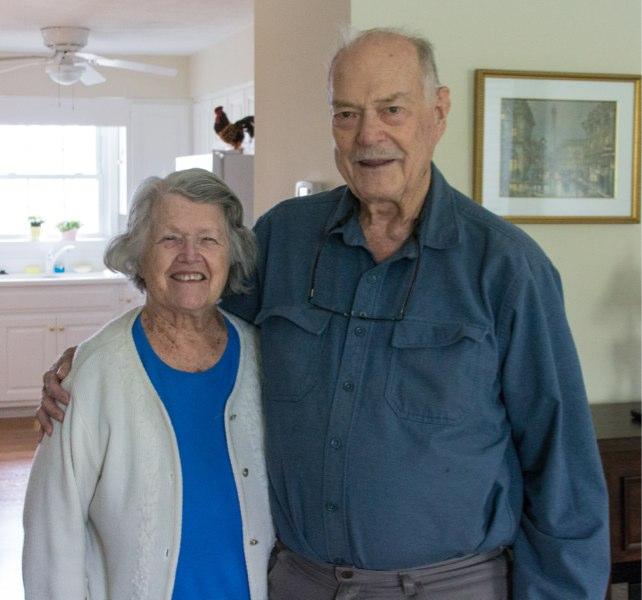 This is a story about a fox and a crow — or rather, a Fox and a Crow. Over sixty-six years ago, Janet Fox married Charlie Crow—they're still happily married and, as of January of this year, living in their cozy apartment on Grattan Price. We welcome them to Sunnyside!
Both Charlie and Janet are natives of California, Modesto to be specific. (If you're looking for it on the map, Modesto is near Crow's Landing, a site named after Charlie's great-grandfather in the 1850s.) They have fond memories of the rural character of this area when they were growing up, although the population of Modesto is now more than ten times what it was then. They met in high school, where Charlie played the clarinet and Janet the alto saxophone. Fox and Crow married at a young age, 19 and 18, and shortly after their wedding Charlie enlisted in the Navy. He was stationed on a destroyer, in which he literally went around the world.
Both Charlie and Janet went to college late, after Charlie had gotten out of the Navy. They graduated from Stanislaus State (now California State University at Stanislaus), Charlie with a degree in business and Janet with a degree in education. Before taking early retirement, Charlie worked with the Pacific Telephone and Telegraph Company for thirty years, while Janet settled into a varied career that ranged from teaching school to working at Penney's.
One of the most beautiful places they lived was Santa Barbara, which they described as a "paradise." Through a geographical anomaly, in Santa Barbara they could watch the sun both rise and set over the Pacific Ocean.
Charlie and Janet have a son, Richard, who lives in Warrenton and does "spy work" for the government. At his urging, they moved from California to a town home in Warrenton in 2015, and then earlier this year to Sunnyside. In addition, they have a grandson in the Navy.
While they don't travel much anymore, Charlie and Janet have driven across the United States seven times. They also have warm memories of their travels to Paris, Amsterdam, Luxembourg, and Montreux, among other European destinations.
True to their clarinet and saxophone roots, the Crows enjoy music, especially from the 50s and 60s. While living in California, they frequently attended concerts of the Modesto Symphony, an excellent regional orchestra.
Although in Harrisonburg they miss the social connections they had through their church, they are impressed by the "friendliness and helpfulness" of Sunnyside residents and have "no regrets" about moving here. We know the community will continue to make them feel welcome as they continue their transition into life at Sunnyside.
--John Noffsinger