Meet Dick Brown – A Long-Time Friend of Sunnyside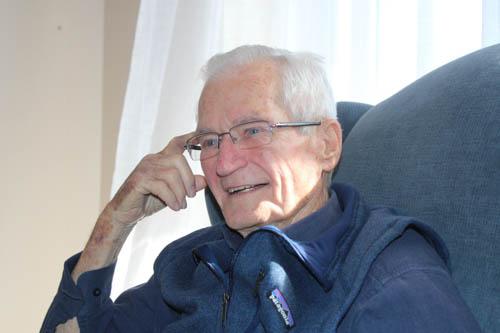 Richard (Dick) Brown is a new resident here at Sunnyside. He came here December 1, 2017, and turned 90 soon after he moved here. He lives in the Highlands. He prefers the name "Dick." OK. Got that settled. Now for the interesting stuff!
Dick is a Virginian, born and raised. He is a veteran of the Marine Corps, joining the day after graduating from high school in 1945. He actually enlisted in the spring on his birthday that year. He couldn't join then; his mother insisted that the recruiter guarantee he would be able to stay in high school until he graduated. He is grateful to her for that. He said joining the Marine Corp was one of the best things that ever happened to him. (Meeting his future wife was another!) He was at Parris Island on August 14, 1945, when Japan surrendered.
Dick got out of the Marine Corp and went to Washington and Lee University on the GI bill and graduated in October 10, 1950. He then reenlisted for another tour of duty in the Marines. In September 1952, he began college to follow his grandfather's footsteps to become a pharmacist. He graduated in May, 1955.
On April 6, 1962, he and his family moved to Elkton and opened a drug store in May 1962. He recalls that the town was always very supportive of his family, and they joined in the activities of the Elkton Presbyterian Church. When his oldest daughter was in the 8th grade, the family moved to Harrisonburg to live because the Shenandoah valley was so beautiful and the people were very friendly.
Dick was on the Sunnyside Board of Directors with Dick Lyons so he had the inside scoop when it came to what was happening here. He recalled they put their name on Sunnyside's list but were in no hurry. They enjoyed living in Lakewood. His wife was a very talented artist and was widely known in the valley.
But, life has a way of changing. His wife had prior health problems and eventually moved into Assisted Living at Sunnyside. Then Dick's youngest daughter moved in with him. He recalled they were both busy and she was dealing with some health issues as well. It was time for him to move to Sunnyside. He believes he is where he needs to be.
Dick grew up with five sisters and one brother. That meant the males were outnumbered two to one. He and his wife had three daughters. That was four to one! He worked with females all his career. Finally, he got a grandson! He is enjoying him immensely. He also has one granddaughter that he enjoys as well.
Life has changed so much for Dick—life is just that way. He recalled he had always been physically fit, was an avid golfer. He would love to be that way again. He has already started using the Highlands' Fitness Center and enjoys the fitness class that he is in. He is in a good place and reiterated, "I am where I need to be." Please welcome Dick as a long-time friend of Sunnyside! --Kat Marlowe