MEET RALPH AND KAREN ALLEN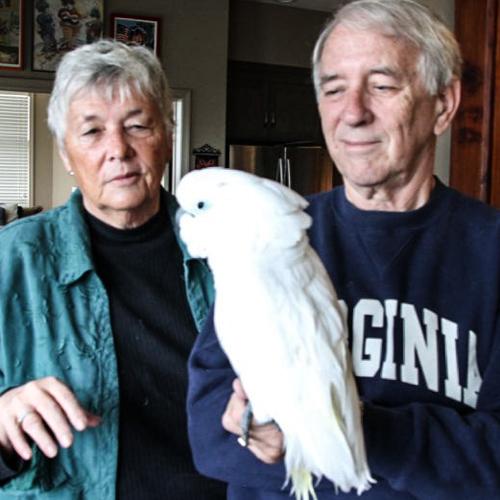 It's somehow comforting to know that while residents Ralph and Karen Allen are new to us at Sunnyside, they're not new to each other. They grew up in the village of Menomonie, Wisconsin, and met when they were in the 8th grade. After high school Ralph did his undergraduate work in chemistry at Cornell College in Iowa, while Karen had a Big Ten experience pursuing a degree in physical therapy at the University of Wisconsin in Madison. Ralph attended graduate school in Madison, and he and Karen got married as Ralph began his doctoral work.
Before their retirement, both Ralph and Karen worked at the University of Virginia. Ralph had appointments in Chemistry, Public Health, and Environmental Science. Also, as head of Fire Safety (as the Director of Environmental Health and Safety), he worked with local fire departments—and was in addition Associate Vice President for Research. In his last year before retirement, he taught aboard a ship that travelled around the Atlantic Ocean with the Semester at Sea program. Karen worked with heart and lung transplants at the University Hospital and then joined Environmental Health and Safety to develop an Ergonomics Program, working with staff and faculty as an Ergonomics Trainer. They lived in the Charlottesville area for over 47 years before moving to their Grattan Price villa in September.
Ralph and Karen have three children. Their son Krister lives in Sandpoint, in northern Idaho, where he designs houses for those in the area—though soon he will be returning to Virginia to live in the Northern Neck. Their daughter Kara lives in Raleigh, North Carolina. She's affiliated with North Carolina State and works as a mentor of social workers, while their other daughter, Katri, lives down the Valley in Waynesboro and works as a child and adolescent counselor. Ralph and Karen also have ten grandchildren.
One of the first things one notices in meeting Ralph and Karen is their unusual pet, Nick, a cockatoo who likes to calmly perch on Ralph's hand and have his feathers preened. Nick listens to conversations and every now and then interjects his own commentary. They also have Zeke, a sun conure, a gorgeous parrot with rainbow coloring.
After their retirement in 2015, Ralph and Karen got an RV and traveled to 23 states. (They still have their RV and love the idea of being able to hop in it anytime. They see that one of the advantages of living at Sunnyside is being able to lock the door to their villa, take Nick and Zeke to the RV, and hit the road.) They loved visiting their son in Sandpoint and practically became a part of the community when they were there. They hope future travels might take them to Alaska, to New Zealand, or back to Switzerland. They've been to Switzerland twice and have visited Elm, the small town where Karen's ancestors came from five generations ago.
In their spare time, such as it is, Ralph and Karen like to read. Ralph particularly enjoys history and historical fiction, and he enjoys the novels of Bernard Cornwall as well as the forensic and police procedural fiction of Patricia Cornwell, an author Karen enjoys as well. Ralph recently taught an OLLI course on forensic science and has been requested to write a book on the subject.
Ralph and Karen have eclectic musical tastes ranging from Neil Diamond to Bach, Beethoven, and Mozart. They also like the music of the Norwegian composer Grieg, perhaps in part because they spent a year in Norway. And while in graduate school Ralph began to learn how to play the bagpipes, so Scottish music is also definitely on their radar.
We welcome Ralph and Karen to the Sunnyside community! --John Noffsinger