Meet the Traveling Leobolds!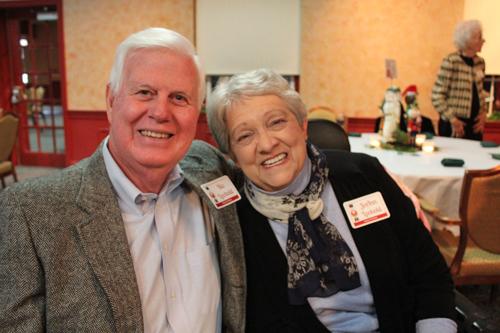 I recently had the pleasure of meeting new residents Ric and JoAnn Leobold. They moved into a Grattan Price Villa in November and are delighted with their new space – perfect for them and their very handsome 11-year-old yellow Lab, Rocky.
JoAnn was born in Wolcott, Connecticut and graduated from the Nursing Program at Hartford Hospital, specializing in pediatric nursing. She quietly confided that she recently attended her 50th reunion! Her move from Hartford Hospital was born of a desire for another adventure, so when a former psychiatric instructor told her of a new psychiatric facility that was a pilot study for Virginia, she applied to be part of the first staff to open its doors. And this is how she came to Virginia!
Ric says he is a Virginia native "through and through." He was born in Virginia and received his baccalaureate degree from William and Mary and a master's degree from Shenandoah University. He began his professional career in technology software development and testing with the Chesapeake and Potomac Telephone Company and then with AT&T. When AT&T became part of IBM, Ric was able to continue working with AT&T from home.
Now, you may ask, how did Ric and JoAnn finally meet? Well, they both attended the Berryville Presbyterian Church and were active in the choir there. It just so happened that Tom Holden was their pastor and, ironically, their new villa here at Sunnyside is just below Tom and Gina Holden!
Ric and JoAnn have two daughters, Melissa and Jenni, and six grandchildren – three boys and three girls. One daughter lives in Winchester and one is in Martinsburg.
Ric and JoAnn first met some of our Sunnyside residents while on the same Mississippi River cruise. They met Sunnyside residents again on the recent Snake River cruise. Both times they were impressed with Sunnyside residents' friendliness and enthusiasm. You never know the impact you may have when sharing the good news about Sunnyside with others!
Since arriving at Sunnyside, Ric has volunteered with the Sunny Treasures Furniture Sale, and both love playing mah jongg. They are also looking forward to two new travel adventures – a cruise on the Great Lakes in August, and have plans later for a cruise on the upper portion of the Mississippi.
Let's give a warm welcome to the Leobolds! They live at 4440 Grattan Price Drive, #2, and their phone number is 437-8886. --Linda Bradley --Photo by Mary Rouse