Meet the von Seldenecks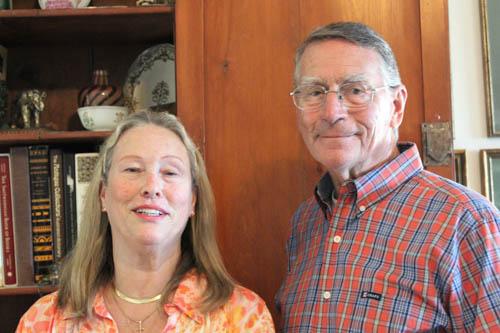 Roger von Seldeneck was born in Jenkintown, PA. He went to prep school in St. Louis (Principia Upper School) and then on to Franklin & Marshall College in Lancaster, PA. He started out as a stockbroker with Branch Cabell and Co., which provides investment banking and securities brokerage services, before changing to Moore Business Forms in Lynchburg.
Roger was only 37 when his Dad died, so he returned to the valley and Branch Cabell. He has been retired now 11 years. Roger is a great golfer, although with moving, he hasn't had much time to play. He also played a lot of tennis.
Born in New Rochelle, NY, Judy moved to Richmond, VA in 1954. Judy was educated in Richmond public schools, received an AA degree from Averett Junior College (now University), a BA in English from Westhampton College, University of Richmond, and then studied at the NY School of Interior Design.
Judy and Roger met at a Christian Science Church in Richmond. They were married on June 24, 1967 at the First Baptist Church, Richmond (by Dr. Ted Adams) three weeks after her graduation in 1967. Dr. Adams was a legendary pastor at Richmond's First Baptist Church from 1936 to 1968.
Judy taught at Wilson Memorial High School in Fishersville for two years and then worked for Joan and Wendell Young, who owned an interior design business in Staunton, that provided interior design and decorating to their clientele.
Roger changed jobs and they moved to Lynchburg where she established vonS Interiors. Their son Jeff was born there. Jeff and his wife, Jillaine, now live in Leawood, KS, with grandsons Jake (will be 5 on Sept 24) and Jason (turned 13 on Aug 17). Hmm, seems like there is a "J" thing going on.
They moved to Baltimore for five years, where Judy taught Business English and Interior Design at Patricia Stevens Career College in Baltimore and continued with vonS Interiors there.
They settled in Harrisonburg in December 1979, where Judy again continued with vonS Interiors and taught interior design at the city recreation center. They have lived in Harrisonburg for almost 40 years and lived in their last house for 29 of those years. They have been members of First Presbyterian Church since 1987. She is diabetic Type 1 and has some interesting stories, to which any Type 1 can relate and any Type 1 spouse will say, I know!
Eleven years ago, Judy started working in the Office of Elections for Debbie Logan, Voter Registrar. She still works 1 or 2 days a week until elections. Then, it is full time plus for days. She is quick to say she loves her job!
The von Seldenecks have no pets now, but they had two dogs for about 13 years each. They are enjoying meeting all the canine residents on Grattan Price Drive. Judy noted that they had a fish pond at their last house. The fish were her pets. Roger's? - not so much. Judy is very active in the community. She is a member of: Massanutten Chapter, National Society of the Daughters of the American Revolution; Philanthropic Educational Organization Sisterhood; Colonial Dames of the 17th Century; Mayflower Society; and two bridge clubs. She enjoys reading, writing poetry, Bible Study, golf, and walking! I think, "this is one busy lady!"
As long-time Harrisonburg residents, they were very familiar with Sunnyside. They knew and visited friends here. They put their name on Sunnyside's list seven years ago. They love their house and it suits them. However, Judy does not like bugs and ants and right now, they have an ant problem. Somehow, I know the ants are not going to win this one.
Roger said he wanted to live here because he didn't want to take care of a house any longer. He appreciates having things taken care of. He also appreciates not having a big tax bill. Judy noted that the rates for renting a whole house are very reasonable, and they love the views from their screened deck. I won't say I am envious, but I do love that deck. Judy commented that, when she looked over the resident directory, she realized they knew 52 people who lived here! She also confided that, although she has lived in Harrisonburg for about 40 years, this is the first time she feels at home.
Wow. I just love that!
Welcome home, Roger and Judy!
--Kat Marlowe