Welcome to Jay and Kay Taylor !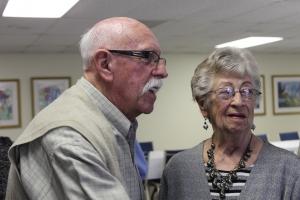 Jay and Kay Taylor moved to Sunnyside on March 15, 2017. They moved here from a little beach town between Myrtle Beach and Charleston, South Carolina where they have lived for the past 24 years. Prior to South Carolina, they lived in the Adirondacks in upstate New York. Their heart's home was South Carolina, but one son lives in upstate New York and the other son lives in Rutland, Vermont – so now they are closer to their children and two grandchildren.
Jay and Kay were attracted to Sunnyside because their neighbors of 10 years in South Carolina, Ennis and Carol Anne Van Duyn, had moved here. When Jay and Kay traveled north to visit their grandchildren, they would stop to visit the Van Duyns. Carol Anne and Ennis were very positive about the Sunnyside life and encouraged Jay and Kay to consider making Sunnyside home. Kay decided it would be good to move to Sunnyside, and Jay was fine with that.
Sunnyside appealed to them because it had the continuum of care that they believed would be necessary in the future. Having everything in one place appealed to them. They also wanted a house instead of an apartment, which they were able to obtain. Next will come a dog. Hmm, I don't think Sunnyside has dogs to give to residents, but they do have a super dog show!
Kay noted that they were experiencing the challenges of moving to a new community, especially finding new friends who have similar interests as they. Despite that, they are glad they are here.
Jay and Kay both enjoy reading, reading, reading and, oh, a little TV as well. Jay is interested in everything, enjoys conversation with friends and doing volunteer work. He retired from GE and also taught in a school for children with disabilities. He loves working with people who need what he has to offer. In the past, he has volunteered for Habitat for Humanity and continued working with disabled children. He also loves to ride bicycles, street and racing. He especially enjoyed participating in races with his son, who enters a Diabetes Awareness race each year. One year, as a special gift to his father, he bought Jay a new bike and presented it to him at the end of the race.
Kay worked in the school system for 27 years, becoming the head of cafeteria in the Shenedehowa school in upstate New York. Now, think Shenandoah and try to say Shenedehowa! Kay liked the children, especially the ones in elementary school. When asked if the children liked her cooking, she replied, "They ate it!" And with children, that was a good thing.
Jay and Kay are looking forward to being a part of this community. Let's make sure they have the best opportunity! --Kat Marlowe