A Harp Concert for the Soul
This beautiful story was submitted to the Sunnyside Times by Elizabeth Healy, a student at Harrisonburg High School and a member of Trinity Presbyterian Church – where both she and Virginia Bethune worship. Please enjoy the story, the photos, and the video!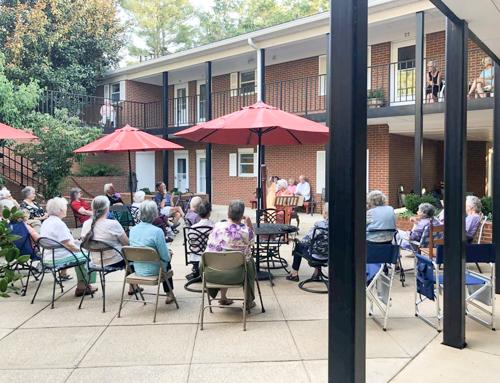 On Sunday September 22nd, I saw a harp concert by Virginia Bethune at Sunnyside Retirement Community. Ms. Bethune has over 40 years of harp experience and is thrilled to share her gift with the community. So, when she heard that there was a courtyard on the grounds that had never been used, she jumped at the opportunity and organized this concert. 
At the concert the audience was blessed with eight pieces, five on harp, and three vocal tracks by her husband, Dick Bethune. Throughout the concert, the audience was surrounded by well known melodies such as Shenandoah and Ode to Joy, that were played in a way that they were so masterful, they could put you to sleep. Each piece built off the last, so you felt as if you were falling deeper and deeper into serenity.
Then Mr.Bethune's vocal tracks softly awoke you as powerful notes filled the air. This experience was truly a once in a lifetime one, as I have never been so deeply affected by a single instrument and voice. See this in the video below.
--Elizabeth Healy --Photography by Carolyn Suffern