Anse
--by Joel Grow
My father's six sisters were formidable women.  They were big women. Not fat, and not tall, but broad and thick, with strong jaws and strong opinions. They had old-fashioned names.  The eldest was Rossa Lee, nicknamed Rossie. I just love that name.  She died long before I came along, and I never knew her.
Then came Lynn Orinda, the mean one. Nobody liked her, and they didn't even bother to give her a nickname. Then Virginia Louise, the party girl when she was young, known as Boots. Dad followed, with the plain name of James William after his grandfather, and was called Jimmie.  Then, in order, Leta Mae, or Peg, and the twins: Effie Estell (Mike), and Augazelle (Toots).So, yes, they had a Boots and a Toots.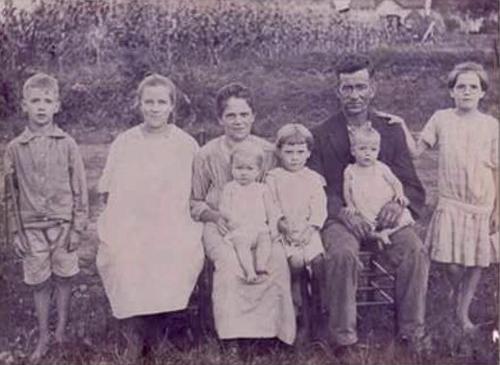 I have a picture of this entire family, in the early 1920s, in rural Alabama. It's the sort of picture that door-to-door photographers would peddle. They'd knock on your door and offer to take a picture of the family for a dollar. In this one-dollar family portrait, grand-dad and grandma are seated in ladder-back kitchen chairs in front of the cornfield, looking a lot older than their years, with the kids strewn around them. All the kids are dressed in clothes made by grandma from flour sacks and sugar sacks, a common and sensible re-purposing in those days. None of the kids have shoes on. Dad said that they only wore their shoes for church, school, and funerals.
Grand-dad was from the Akron, Ohio area, but had run away with a small-time circus as a teenager, joining his aunt and uncle who had a high-wire act. He'd started as a caretaker for the animals, and somewhere I have a picture of him leading a camel on a long bridle. He later was part of the family high-wire act, in which he'd ride a bicycle across the wire, way up in the air. Travelling with the circus, he met grandma in Alabama, fell in love, and quit the circus to marry her.
Not long after the time of the family's dollar-photo, they moved back north to Barberton, Ohio, near Akron, because grand-dad had been promised a job there in the Ohio Blue-Tip Match factory of O.C. Barber, a pig farmer who became the founder of Barberton and a developer of strike-anywhere wooden matches, and who came to be known as the "Match King."
Northeast Ohio was becoming a destination for many young men from Appalachia in those years between the world wars. As the auto business was burgeoning in Detroit, cities like Akron, Youngstown and Cleveland came along for the ride as producers of tires and steel, and so there were jobs to be had. It was from among these Appalachian men that my dad's sisters found their husbands. And finding husbands was important in those days. The Depression had hit, and grand-dad had been hurt in an explosion at the match factory and couldn't work. They had to "farm out" the younger daughters to relatives. My mom and dad, newly married and age 20, suddenly found themselves raising dad's younger sister Peg, and also my mom's younger sister Evelyn. So, finding husbands for all those sisters was an important piece of the puzzle. And what a cast of characters those new husbands were,
with first names as old-fashioned as my aunts': Kermit, Wilbur, Elmer, Roy Lee, Burdette and James, known as Anse.
Anse was named after his mother's relative Devil Anse Hatfield, patriarch of one side of the Hatfield and McCoy feud. All these men were good, decent, hard-working guys, and all plenty rough around the edges. Wilbur became an entrepreneur, owning his own little factory near Akron where they made prophylactics—condoms. Which in a humorous way made complete sense since Akron, home of the big tire companies, was known, after all, as "the Rubber Capital of the World." At various times in its history, Akron was the first city to ever use police cars, has also been known as the Bowling Capital of the World, and was the place where Alcoholics Anonymous was founded, though I don't know for sure of any connection between those facts.
Of all those uncles of mine, the one I knew best was Anse. He was not tall, but really big, with huge, thick wrists and Popeye-sized forearms, and a bright red nose. He wore bib overalls, and the right front strap always seemed to be hanging loose, revealed a wide swath of long-johns.
He both smoked and chewed tobacco. When he'd spit tobacco juice successfully out away from himself, he'd mutter "bulls-eye", and when he dripped down his long johns on the side where the bib overalls hung loose, he'd mutter "dammit", in the same absent-minded tone of voice. When company would come, he'd hike up and button that loose overall strap to cover the tobacco-stained long johns. He seemed to regard that as dressing up for company!
Anse had that slightly bent-over posture of so many farmers and a head of coarse red hair that resembled nothing so much as rusty steel wool. Around the farm, I saw him do things displaying enormous physical strength, and also saw him pick up a tiny bird that had fallen from the nest and place it gently back in its home. He and Aunt Boots had their farm not far from us, where Anse grew mostly corn, along with some vegetables for their use and for their roadside stand.
Boots and dad were particularly close, so we'd visit out there with them regularly. One visit when I was very young, about 3, everyone was in the house except Anse and me. I was pushing a little toy lawn mower around the barnyard while Anse was doing some chore nearby. Well, the farm's rooster decided he didn't like that toy mower, which was one of those that made a little noise as it popped a ping-pong ball around in a little clear plastic dome. The rooster attacked the mower, and me. I remember fending off the rooster with my left arm while I swung the mower at him with my right arm. I was scared, hurt, and MAD, dripping blood, tears and snot, and screaming like hell. Dad came running out and broke it up, and there was Anse, leaning on a fencepost, just watching.
"Anse" Dad said, "why didn't you stop it?" 
"Well, hell, Jimmie, he was holding his own!"
Many of the kids in the clan worked on that farm at one time or another, and there were LOTS of kids! I had 28 first cousins. Some of those cousins were old enough that their own kids were about my age. Plenty of kids were growing up with some time spent on that farm. When small, we'd help Anse pick vegetables for the road-side stand, where we'd then sit and sell produce to the folks stopping by. On Saturday mornings, though, from 10 till 12, Anse would always run the stand himself, or maybe have one of the older boys run it, and it seemed all of Anse's pals would stop by then to pass the time of day and pick up a few things. That seemed odd to me as I grew older, since a lot of these fellows were farmers themselves, and it seemed like they would grow their own vegetables.
But what did I care? I was having a lot of fun on the farm. We little kids would work a bit, maybe passing watermelons fire-brigade style to load them on the wagon, and Anse would come along and knock a melon from someone's hands, and it would split open on the ground. The littlest kids would get scared, Anse would act all gruff and grumpy, calling us lazy and clumsy, and then would grin and say "well,
you'uns better clean that up!" And we'd all push to get to it, digging our dusty, grubby paws into the red melon to grab the sweetest parts and gobble it down, and spit the seeds at each other and laugh and laugh, Anse loudest of all. After that, he'd say what a mess we were, and tell us we needed to clean up before our mamas saw us. He'd hitch up the wagon to his mule, Sergeant York, and tow us to the swimming hole in the woods at the back of the farm, where we'd swing on the rope swing out over the water and splash down into the deep, dark coolness.
Ah, Sergeant York, the mule! What a patient, wonderful creature. You could climb all over him, pet him, hug him, pull his tail, and he was happy as could be. Just don't forget his hat! He was named by Anse, a WWI doughboy who fought in France, for the great war hero, Sergeant Alvin York, the conscientious objector who became a winner of the Congressional Medal of Honor. Sergeant York, the mule, was docile as could be, but if you wanted to ride him or have him pull the wagon, you had to put his hat on him. It was an old wide-brimmed doughboy hat, with holes cut through the brim for his ears. Until it was affixed to his head, Sergeant York would not move a muscle. With the hat, he would do whatever was asked of him.
Farming being a tough way to make a living, Anse had sidelines. He had a knack for getting insubordinate farm machines to work, maybe not forever, but to get through the season, anyway. Other farmers would bring their problematic equipment to Anse, and he could usually get things working again. He had a big hand-painted sign by the old barn that said "Half-fast mechanic on duty." Say that out loud, kind of quickly, a couple of times.
It was Anse's other sideline that likely kept him afloat, though. You'll recall that he had a roadside farm stand, and that he grew a lot of corn. Well, on those Saturday mornings when he would run the stand himself, and his farmer pals would stop by to pass the time of day and pick up a few things, what they were picking up was moonshine, white lightning, corn likker. It turns out that Anse had a still not far from the swimming hole, in a part of the woods where we were all told never to go. He told us little kids about ghosts being back there, and snakes and spiders, and those stories stuck. We talked about the ghosts and stayed far away from that area. But, when I was 16, Anse needed some help getting some supplies moved and asked me to help him. When we got the bushels of corn and other stuff back there to the operation, I had no idea what I was looking at, and Anse filled me in. It was very much small-time, only enough to supply his pals, and to give Anse himself that big red nose, I suppose. But he put his product in pint and quart mason jars, and the jars in paper bags, which then were placed on the bottom shelf of the roadside stand, behind a little curtain.  Quarts on the left, pints on the right. When a customer for this special produce would drive up, they'd stick out $2 or $4 and hand you an empty mason jar, and you'd know whether to give them a bag with a pint or a quart. 
In my late teens, and even more after I was in college, I worked less and less for Anse, as Dad found me better-paying summer jobs at Goodyear plants around Akron. I saw less of Anse and Boots.  I missed those summers on the farm, but was excited to be doing new things. 
When I was a college senior, I learned Anse was sick.  He had lung cancer and not much time.  I went to see him in the hospital over Christmas. We were glad to be together, but also shy about feeling so excited after so long a time of seeing each other only occasionally, and then only in big groups. 
We talked and reminisced about the farm, recalling mostly funny things and sweet moments. He told me news about lots of those cousins. He was fascinated that I could be spending all that time in school studying music.  He had gone only through about third grade himself. It was a wonderful visit, for us both.
After a while, our talking began to wind down, and we both knew our visit was nearly over, and that we weren't going to see one another again.  We joked a bit more, and then another lull came. After a minute, Anse reached out and grabbed my arm with one of his big paws.  He squeezed my arm ... hard.  He said, "Things ain't gonna work out like you plan. They ain't gonna work out like you hope. They ain't gonna work out like you think.  Don't waste no time tryin' to get back to your plan.  You can't do it.  And if you spend a bunch of time tryin', you'll just miss out on a lotta good stuff you should be payin' more attention to as it goes by."
Of all the things Anse ever taught me, this final lesson in philosophy was the biggest surprise, and was surely lasting and valuable and true. He was giving me, in his own way, a lesson about being in the moment, about taking time to stop and smell the roses, about Zen, one might even say. This from a guy with a third-grade education. 
But Anse also taught me about hard work, and simplicity, and joy and laughter.  Lots and lots of laughter, something we can always use.    I miss him, but in a way not so much, because he is always near.