Harps, Harps, and More Harps !
--by Linda Bradley a id="harps">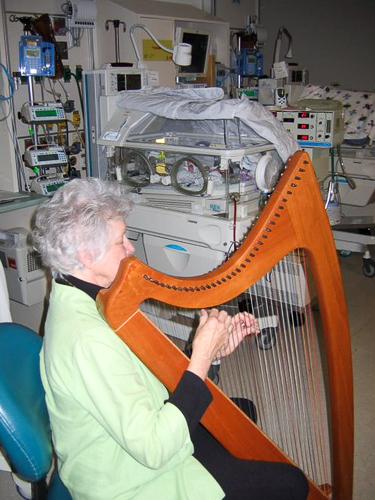 Virginia Bethune and Sunnyside recently hosted a group of four harpists from across the United States for a three-day week-end virtual practicum as they worked on their final requirements for certification as therapeutic music practitioners through the nationally acclaimed Music for Healing and Transition Program. Therapeutic music is very different from music therapy or music for enjoyment. Therapeutic music is carefully selected to produce purposeful outcomes such as relaxation, to lower pain, to decrease blood pressure, to promote healing, to decrease anxiety, and to promote positive experiences.
The four MHTP students had already completed four week-end components of the program, and as part of this fifth week-end practicum, they played their harps, a large lyre, and a guitar for ten residents in Health Care through a virtual meeting format. Each musician played their instruments over Zoom for 15 minutes or so with four different residents who exhibited differing medical conditions. Health Care staff transported the patients to and from these sessions and stayed with each one during their special time.
During the week-end the students also interviewed Sunnyside's Executive Director, Charlotte Sibold, and Health Care Administrator, Sue Ellen Clark, both of whom were very complimentary and supportive of the program. Virginia expressed her appreciation for the wonderful organization and hospitality shared by Sunnyside and the Health Care staff as the practicum unfolded.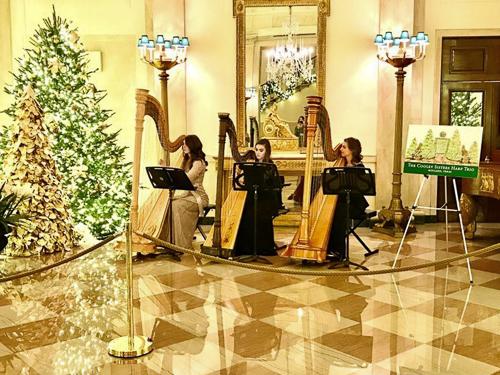 Virginia has been a Certified Music Practitioner for a number of years. She has led certification workshops here at Sunnyside for ten years and is grateful for 15 graduates of these programs. She has played as a CMP at both Sentara RMH and the University of Virginia Hospital. She was excited to share photos of three sisters – two former students and one a graduate of her CMP workshops – who began their study using harps made by Virginia's husband, Dick, and who recently played at the White House!
And what's next for Virginia and her CMPs? Well, Johns Hopkins University School of Medicine and the Peabody Conservatory in Baltimore have developed a model program called the Johns Hopkins Center for Music and Medicine. The Harrisonburg-Charlottesville area has major hospitals, a school of medicine, and 15 certified music practitioners. Hmmm….