Lillian's Surprise Greenhouse
–Story by Gini Reese, photos by Mary Rouse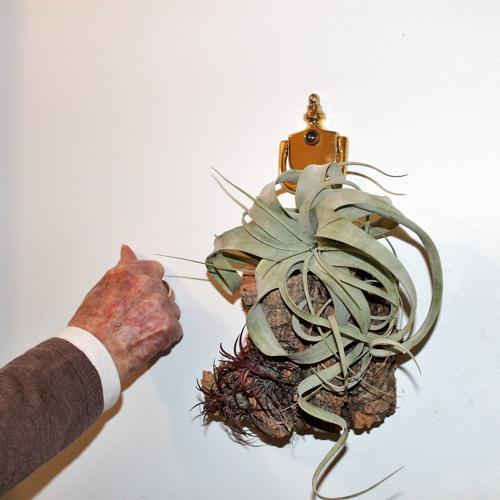 The room is a surprise. The twenty or so potted succulents standing at strict attention in a long, flat tray, demand attention. Each is of a different species, each is a varying color, each is of a similar height, and each is obviously well tended. They are so perky they take your breath away. Then, looking toward the window, you see a delicate orchid arching its spine, laden with soft rust blossoms so unusual it welcomes one with a plethora of grace and dignity. Between those two, you see a dozen stalwart amaryllis vying for trumpet space in every pot and every shade possible. On a small table in the middle of the room a lone African violet flourishes in splendor. Though not in bloom just now, it is covered with ruffled blue-gray leaves adorned with spectacular ecru fringe on all stems. An item of beauty at any time. Lastly, anchored in cork, there are large blocks of air plants hanging on the wall bearing carefully selected examples of color and texture for a stunning display. Truly, a greenhouse in one unbelievable room. How did this come to be?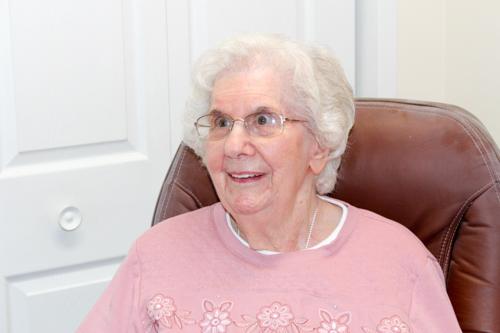 Richard Thomas graduated from Case Western Reserve in Cleveland, Ohio with a degree in electrical engineering. Lillian was in nursing school at St. Luke's Hospital, which was also in Cleveland. The year was 1945 and their wedding day was March 12, In Chicago, Illinois. Dick returned to work and Lillian returned for the final six months of school. Some short time thereafter, they came to reside in Fort Wayne, Indiana, where they lived for the next seven years. They did their gardening in a small greenhouse attached to their home, where their life-long avocation with plants began. Their eldest son was born there.
Dick worked for General Electric, while Lillian worked at home raising three boys. Stewart came first, followed by David after nine years, followed by Donald after five more years. Stewart graduated from Virginia Tech and is married to Cynthia. Donald attended UVa and JMU and is now employed in construction. David spent his early years in the Army. All three boys presently live in Augusta County.
Eventually the little family moved to Waynesboro, Virginia, where they purchased a farm having fifty acres. There they acquired a separate greenhouse, allowing plenty of room to spread out. During those years they often traveled to other greenhouses buying, exchanging, and selling their wares. Their greenhouse was known as Rocky Knoll.
Lillian and Dick moved to Sunnyside in 1994, residing in a cottage at Hickory Cove and once again having a small attached greenhouse. From there they frequently dispensed orchids and African violets, spreading joy in bountiful abundance for all. The two of them were married for 72 years. Dick passed away in January of 2017 after serving General Electric for 38 years.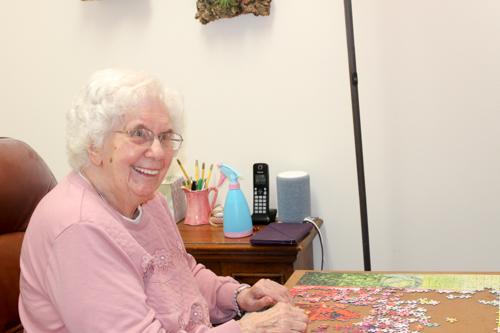 Lillian relocated to Assisted Living in 2019. Serenity and peace pervade this dwelling. With the owner's permission you are invited to call and come for a visit to this delightful place.  In the meantime, during this time of stay-at-home policies here at Sunnyside, Lillian is sharing her lovely plants in the AL dining room for those who pass by.  She changes the plants daily, giving everyone an ever-changing view of joy and hope.