The Rise of Sourdough
While it's odd to contemplate the "good" things that arose during the pandemic—or perhaps that's even an oxymoron—it's undeniable that certain activities received more attention and enthusiasm as we were forced to stay home. Beyond our working crosswords and jigsaw puzzles, for example, the Hershey Company estimated that approximately 30% of consumers reported acquiring new baking skills and 34% of consumers were using baking as a form of "self-care" during the time of Covid. This increased activity in the kitchen was perhaps necessitated by the closing of bakeries and the difficulties of buying freshly baked goods from grocery stores.
Since we took a Lifelong Learning Institute course in bread-baking four years ago, Mary and I have been producing two loaves of sourdough bread a week, and it was clear that during the worst months of the pandemic supply and demand occasionally made it difficult to obtain baking supplies. But now that we're easing back into "normal" culinary life, I'm wondering how many enthusiasts are losing their commitment to the demands of baking—souring on sourdough as it were. Not us--Mary and I still retain our enthusiasm and look forward to the weekly allure of feeding sourdough starter and baking bread.
Most of us know that sourdough bread has been around at least since the Gold Rush of 1849, when Gabby Hayes look-alikes panned for gold and in their spare time baked bread. San Francisco was the at the heart of this movement. In fact, there are websites that advertise a sourdough starter bakers can buy that is descended from the "original" starter from 1850. And if that's not pedigree enough, on eBay you can buy a 230-year-old Verified Heritage San Francisco Starter ("Very Strong, Very Sour") to get yourself started down the primrose path to sourdough baking perfection.
It turns out, however, that sourdough has a much longer history. According to the University of Wyoming website, "the first recorded use of sourdough bread was from the Ancient Egyptian civilization dating back to 1500 B.C. It was probably discovered by accident when bread dough was left out, and wild yeast spores from the air drifted into the mix." Recently, Seamus Blackley, one of the inventors of Xbox and an amateur baking enthusiast, made a loaf from 4,500-year-old Egyptian sourdough.
So what is this mysterious and serendipitous combination that exists in the twilight zone between magic and science? Wild yeast spores are indeed floating around our cottages and villas, just waiting to find the right conditions to land and do their yeasty thing.
All sourdough baking begins with a starter—a combination of flour, water, and a little sugar. When this sits at room temperature, wild yeast spores descend on it, and after a few days fermentation begins. Voilà—a starter is born.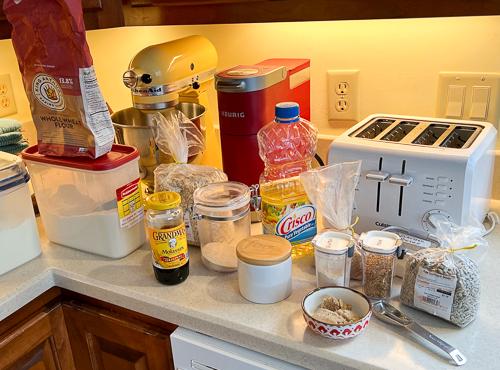 As I mentioned, the starter Mary and I acquired through our LLI class we've been using for four years, but who knows how old it really is. Our weekly routine is to feed the starter with flour and water on Saturday and bake our bread on Sunday. It's a misconception that there's only one kind of sourdough bread—let's call it "sourdough white." In fact, we've never made this traditional sourdough but instead use other recipes we've found. Our favorites include sourdough rye, molasses oatmeal, wheat, and honey-oatmeal. Waiting in the proverbial wings are recipes we'd like to try for sourdough English muffins and sourdough waffles. It's easy to find unusual sourdough recipes online, for a quick search reveals chocolate sourdough cake, sourdough banana bread, and even sourdough tortillas.
What's the process? We gather our ingredients, which usually include some combination of sourdough starter, water, molasses, honey, oatmeal, salt, oil, flour (white, wheat, or rye) - and even a little yeast. To these ingredients we make our own additions to the recipe: sunflower seeds, flax powder, flax seeds, and wheat germ. We knead the dough for eight minutes (by hand rather than by machine - we like the feel of the dough) and then let it rise in a bowl till doubled in size. This usually takes 1 ½ to 2 hours. When it's doubled, we take it out of the bowl, let it rest for ten minutes, and divide the dough in half, putting each half in a bread pan for the next rise. When the risen dough crowns above the edge of the pan, it's ready to bake. The result is two loaves of homemade sourdough bread, with no preservatives—perfect for toast or sandwiches!