And the Winner Is ...
2017 Sunnyside Pool Tournament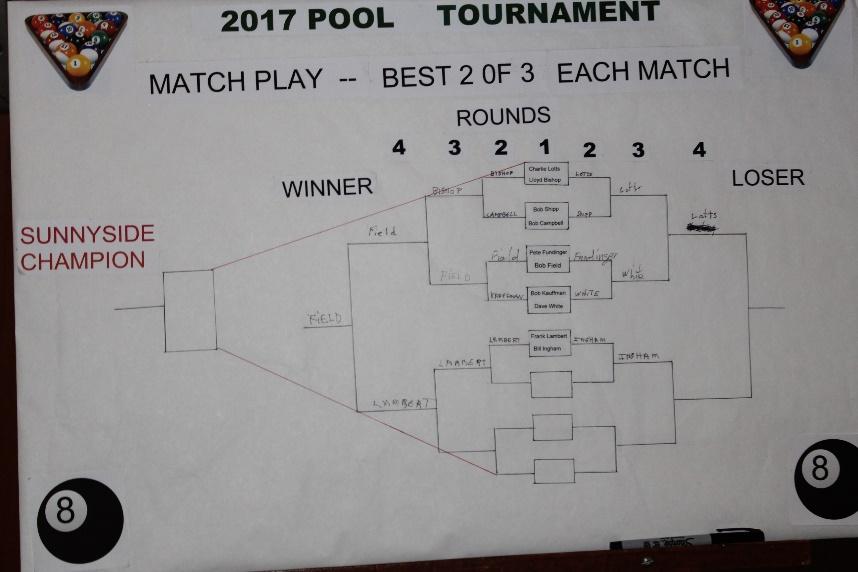 Ten residents signed up for Sunnyside's annual pool tournament: Lloyd Bishop, Bob Campbell, Bob Field, Pete Fundinger, Bill Ingham, Bob Kauffman, Frank Lambert, Charlie Lotts, Bob Shipp, and Dave White. Each match was the best two-out-of-three games. There was a winner's bracket and a loser's bracket based on the outcome of each player's first match. The championship was decided in a winner-take-all match between the winner of the winner's bracket and the winner of the loser's bracket.
Tournament organizer Frank Lambert prepared this bracket sheet (Thanks to Mary Rouse for all photos):
Contestants scheduled matches at their convenience. By April 3, Bob Field had won the winner's bracket and awaited the winner of a match between Charlie Lotts and Bill Ingham. The next few photos show Charlie and Bill hard at play on the afternoon of April 3. The first photo shows the coin toss that determined who "broke" (took the first turn) in the first game.
Each game was close, but Charlie finally prevailed - two games to none. Charlie and Bob then played for the overall championship on Friday morning, April 7. Both men demonstrated their exceptional skills, but Charlie prevailed in two games and became the 2017 Sunnyside Pool Tournament Champion! Congratulations, Charlie!
All who played had fun and were good sports. Any Sunnyside resident is welcome to sign up for the Spring 2018 tournament that will determine next year's champion! In the meantime, practice on your own or with friends in the pool room (Fourth Floor, Highlands)! --Bill Ingham