A Familiar Face in New Places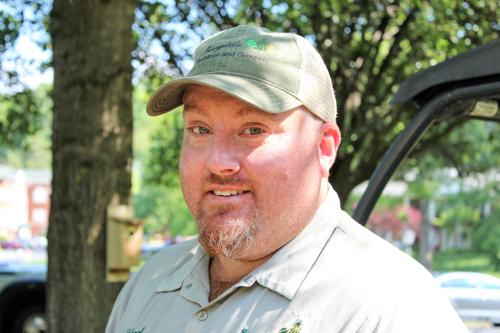 Michael Caplinger, the new Grounds and Maintenance Supervisor, has been a resident of Rockingham County all his life.  Michael is married to Brandy, and they have three boys.  If the name Brandy sounds familiar, it is because she is a nurse here at Sunnyside.
Michael started his working career as a diesel mechanic, working on the big trucks.  Then came eight years of mowing, trimming, and mulching.  He became interested in Sunnyside in April 2011 while cutting down trees that were downed in a severe storm.  His wife was working here; they wanted to start a family.  The benefits were good, and security was important to them.
After the trees, Michael applied for work at Sunnyside and was hired.  He credits Robert Shenk and Rob Cook with making Sunnyside a place that, when he wakes up in the morning, going to work at Sunnyside sounds good.  He values their willingness to help and to teach.  He noted they went over and above to help employees understand so that they could do the work on their own.  He enjoys working with a really good crew, finds the residents to be wonderful and everyone so welcoming.  Every day, there are different things to do.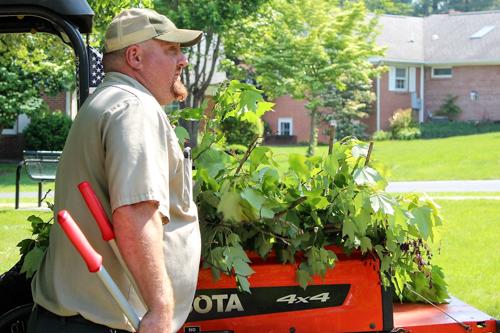 Michael wants what's best for Sunnyside.  He would like to see Sunnyside grow and develop more opportunities for folks in the valley.  He would like to see more crew hired and have more hands-on work.  For his part, he wants to support his family and watch his three sons grow.
Michael loves vehicles!  He acquired his first one when he was just 13 years old and has had 88 more since then!  Right now, he has 8 cars and trucks and 3 motorcycles.  He says that is where all the "play money" goes.  He enjoys buying a vehicle, redoing it and then selling it.  He uses the money to buy a little bit higher-end vehicle and doing it all over again.
Michael enjoys woodworking and is currently remaking a cabin in West Virginia, using rough cut pine he cut down on the property.  It is a work in progress and is satisfying work indeed.
Did you know that Michael's nickname is Moose?  I mean, he is big, but Moose?  I would have picked Teddy Bear.  Well, maybe not; that would be too confusing for Sunnybear!
--Kat Marlowe