Melanie Tomasi's Marketing Journey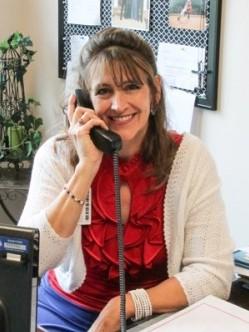 A sign in Melanie Tomasi's office reads "Life is a Journey—Enjoy It," and I came away from a conversation with her feeling she's extremely busy but is definitely enjoying the journey. Melanie is the Marketing Assistant and Move-In Coordinator at Sunnyside, a position she's held since January. She is the "voice" of Sunnyside, the first contact for anyone who expresses interest in the community, but her responsibilities don't end with her answering the phone. "I also distribute marketing materials, help coordinate special events and off-site marketing, track paperwork for new residents, and help new residents with their design plans." Needless to say, this is a full-time job!
Melanie's life journey has taken her to places such as Alexandria, Charlottesville, Washington, DC, and Charlotte, NC, but at heart she's a local girl, raised in Grottoes and a graduate of both Spotswood High School and JMU. She went to college with the plan to study politics and earned a degree in Public Relations and Political Science, but along the way she picked up an interest in design work, which is now her passion. For fun she likes to decorate—for friends and for family—and mentions that "living in a 100-year-old farm house provides me plenty of opportunities to do this."
It doesn't take long for Melanie to turn the conversation toward her family, of whom she's enormously and justifiably proud. Meghan, her daughter, just graduated from JMU but will return in the fall for a master's program in elementary education. This summer Meghan will travel to Korea and Japan, places where she's interested in teaching. Melanie's son, Drake, is a rising high school senior and is being recruited for football by William and Mary, Richmond, Virginia Tech . . . and JMU. Melanie's husband, Steve, is CFO at a development firm in Fishersville. One of the best decisions Melanie feels her family has ever made was to return to the area eleven years ago from Charlotte, where her husband had worked for Bank of America.
Although Melanie remains firmly a (Shenandoah) Valley Girl, her dream vacation is to go to Belize, where she's attracted both by the beaches and by the houses she's seen on (of course) design and travel shows. And she's also happy they speak English there!
If you catch Melanie off the Sunnyside campus, you might find her at Romano's in McGaheysville, her favorite restaurant, or listening to classical or Christian music on Pandora, which relaxes her after a long day at the office. And while one might still catch the slight trace of a Grottoes accent in her speech, she claims to have lost her accent at JMU, thanks to a professor in the Communications Department—although she can slide comfortably back into a Southern accent, especially when she returns to North Carolina.
When you see Melanie, please wish her a good day . . . and notice how she's enjoying the journey! --John Noffsinger