Welcome to Bryce Coleman Strawderman!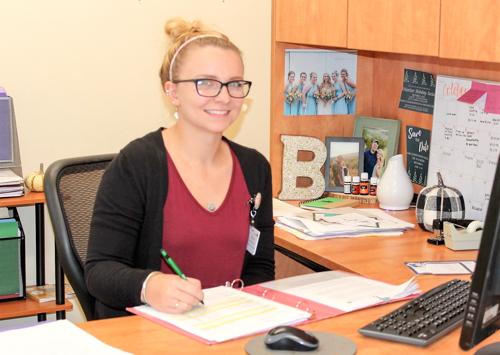 Bryce Strawderman is one of Sunnyside's most recent staff additions. She started working here in mid-September as our new VOLUNTEER COORDINATOR.
Let me introduce Bryce to you -
Bryce is a local young woman, having grown up in northern Rockingham County on a small farm with her family - parents, grandparents, and two younger sisters. She graduated from Broadway High School in 2015. In high school she focused on photo journalism and design, was on the staff of the high school yearbook for four years, and was Editor-in-Chief in her senior year. Her artistic and design talents have already expressed themselves here at Sunnyside!
Over several years she entered the Cosmetology Apprentice Program through Massanutten Technical Center and completed her training locally at Tangles Day Spa. She had to document 3,000 practical hours to complete the program and certification! She also worked part-time at Tangles during her college years.
Bryce attended Blue Ridge Community College, '15 - '17, and transferred to Bridgewater College as a junior in 2017. She graduated in 2019 with a BS degree and a major in Business Administration/Management, with a focus in International Commerce (Japan).
In her personal growth and goals, Bryce has wanted to do something to "make a difference" in the lives of others. This has included her skills in the cosmetology and hairdressing field and fits well with her opportunities here at Sunnyside. "If I can make a difference for one person,......."
Bryce has known about Sunnyside for a long time. Her mother has been on the food service staff in the Eiland Center for the last twenty-four years! The summer when Bryce was 13 she signed up as a junior volunteer here at Sunnyside. Her experiences left a strong impression on her, especially one with a resident in Health Care. In more recent years she has volunteered with the American Cancer Society, with various planning and public participation projects.
In her new position here at Sunnyside, she is on a challenging learning curve, absorbing and doing as much as she can to learn about and encourage volunteers from within our resident and non-resident communities. During the academic year there are also a number of JMU students who are willing volunteers, especially those in several related and relevant academic major programs. (During the "break" times and in summer when the students are away from campus, the need for volunteers rises - hint, hint!). Also, Junior Volunteers who are here in the summer for service camp are invited back to participate in a smaller version during their winter or holiday school break.
Recently, Bryce created and distributed to the volunteer participants a newsletter, the first of its kind here at Sunnyside. It focused on The Terrace and its new Life Enrichment Coordinator, as well as some volunteer opportunities there and elsewhere on campus. She has also been visiting different groups on campus to introduce herself and share information about her position and opportunities for participation in the Volunteer Program.
2019 has been a very special year for Bryce. She graduated from college, finishing requirements in December, '18. She turned her attention to wedding planning and on May 11, she and Andrew Strawderman exchanged their vows with great joy and many friends and family. Currently, at their new home in the county they are also raising a retriever puppy and all three are learning about the behavior training of "Marlin".
It is a very special privilege for me to write this welcome article for and about Bryce Coleman Strawderman. Having known Bryce for several years in another context, I am so pleased to be able to introduce everyone at Sunnyside, not only to our new Volunteer Coordinator, but also to my "Granddaughter-In-Law" ! She and my grandson Andrew were the bride and groom in that May wedding! Not only "Welcome to our Family", Bryce, but also, and, especially, "Welcome to Sunnyside!" You may reach Bryce at Ext. 8216.
--Beverly Silver