AN INTERESTING TRAIL WORTHY OF EXPLORING
From October 2009 Tips & Tales Shared by William Young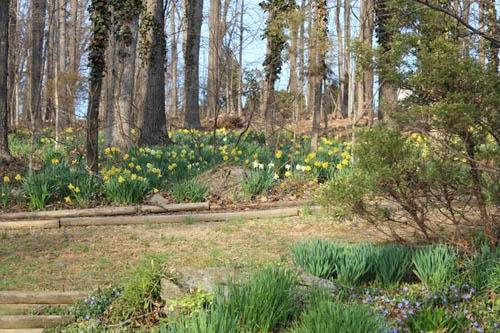 Years before any of us in independent living came to Sunnyside, there was a walking trail constructed from the circle off Grattan Price Drive along the northern boundary of the Sunnyside property continuing to the area behind 4165 Woodside Drive and currently occupied by The Reverend and Mrs. John Earl.
From there it is a short walk to the Village Apartments and somewhat more to the east entrance door of the Pannill Health Centre.  Over the years, erosion had damaged the trail, making it a little iffy for some of us to safely walk it.  For several years Robert, in response to some requests from residents, has been seeking funds and time to rebuild the trail for the recreation and convenience of residents.
Several months ago he was able to get members of Grace Covenant Church Boy Scout Troop No.72 to start the initial laying of the landscape timbers to define the trail and lessen the erosion.  Mark Graham, their Scout Master and former CFO for Sunnyside, supervised the group. The workers were led by Will Long and Mathew Sayre as part of their qualification for the Eagle Scout Award.
The Scouts completed the time required and Robert was able to work out time for the maintenance staff to complete the defining, not only of the original trail, but some offshoots that had become paths through the years.  There are many interesting perennial plants along both sides of the trail and quite a beautiful display in the spring of daffodils planted years ago by Sunnyside staff members at the behest of Georgia Brown, a resident at that time. Numerous species of birds including owls and hawks have been observed nearby or in trees immediately adjacent to the trail.
The trail is now available for walking, with care. We anticipate that it will be overlaid with compacted fine gravel as soon as the maintenance staff can be relieved of some of their mowing duties.
This story seems appropriate for June and the celebration of National Trails Day on June 5, in which Sunnyside will participate with a "walk & talk" on the Golf Course property, which wasn't a part of the Sunnyside campus in 2009.  The trail above has been much improved over the years with more landscape timbers and fresh wood chips, which are more appropriate for the area than gravel.  Many of the plants along the trail also have been identified with flags by resident Andy Sale.  Take time some day to explore this trail all the way to the water tower, where you'll find a bench carved out of a log by a member of the Grounds crew last winter.