From April 2013 Tips & Tales
THE BONDS A PIANO CAN BUILD
Dad was an electrician in a steel mill in the Pittsburgh area but kept up on electrical wiring codes for houses. About 1930 he was approached by a man from a neighboring town and asked if he would do some wiring for him in his house. The man told Dad up front he could not pay for his work right at that time since we were in the throes of the great depression. Dad said he would do the wiring.
While Dad was working on the project, the man said he was ready to get rid of an upright piano and asked Dad if he were interested. Dad said "yes" after consulting with Mother. I will give that piano credit for leading 17 children, grandchildren and great-grand children into pursuing learning to play a musical instrument.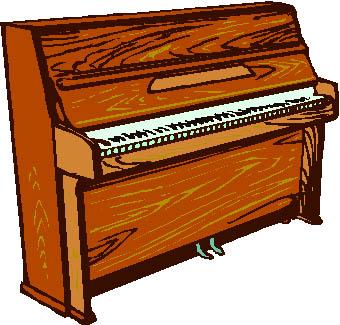 Most of those 17 play the piano. Other instruments pursued were the organ, trumpet, saxophone, clarinet, trombone, flute, violin, bells and marimba. Of those 17 children, 8 played in school marching bands, 3 played in school jazz bands, 3 played in school orchestras, and 3 in school concert bands.
One granddaughter played the organ for her own high school graduation program. Four years later, her sister did exactly the same thing at the same school. Four were accompanists for school choirs with 3 of those accompanists from the same family and in the same school. One played in the Geneva College orchestra and was accompanist for the college choir; another played in the pep band for American University. All the other bands were either in Beaver County schools, PA, Grove City, PA, or Williamsburg, VA.
That piano created a bond between grandparents, children, grandchildren, and greatgrandchildren. All of the children lived at least eight miles, or more, from the grandparents but visited often. Frequently, the children would play songs Mother and Dad knew and they would hum along.
I am sure Dad was glad many times that he accepted that piano in lieu of money. And so do the children and grandchildren. That piano stayed in Mother and Dad's home until they both passed away -- Dad in 1986 and Mother in 1991.
Today, a grandson owns that piano, still plays it, and had it tuned in November 2012. He learned from the man who tuned it that it was built in the 1920s. A Chandler New York, it has elephant tusk ivory keys. The piano is still in good condition.
--Irene Hartman
Irene doesn't mention in the story her experience with the piano, so when asked recently if she played it, she said, "Oh my gosh yes, and I took lessons for years." She utilized those lessons in later years to play piano in numerous settings and finally became a church organist. In updating the status of other family members, she noted that a niece is in the handbell choir at the National Presbyterian Church in Washington, D.C., while other children continue to play piano in church and Sunday School when needed. And it all started with payment of an upright piano.