Honor Flight – Top of Virginia !
This story first appeared in the Sunnyside Times after Harrisonburg's 2019 Honor Flight. We are publishing it again in preparation for the Honor Flight presentation on
February 11 at 10:30 am in the Blue Ridge Room
. The speaker will be Dianne Klopp, founder and president of Honor Flight-Top of Virginia. If you are a veteran or know a veteran who may be interested in participating in an Honor Flight trip, you won't want to miss this program! This year's Harrisonburg Honor Flight trip is scheduled for Saturday, April 18.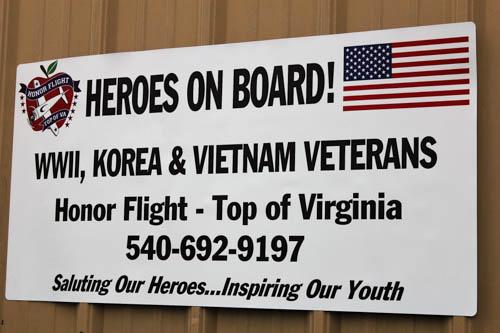 On one very foggy Saturday morning in April, six of our Sunnyside veterans – Jean Beard, Hartley Gaston, George Gibbs, Jim Mathie, Adam Mott, and John Speer – got up VERY early to participate in the HONOR FLIGHT—TOP OF VIRGINIA project.  Honor Flight is designed to salute veterans from the Shenandoah Valley who served during or prior to the year 1975 and to thank them for their sacrifices.  And all at no cost to the veterans!
Our hardy group met with 56 other area veterans at 7 am at the Rockingham County Fair Grounds for check-in and breakfast.  The group included Viet Nam and Korean veterans, and Jean Beard was the only woman.  When she left for service, her uniform was that of the hospital she had been serving.  "It was war time," she explained. 
They then took a charter bus ride to Washington, D.C.  Their day's schedule included an impressive viewing of the Changing of the Guard at Arlington National Cemetery.  A special lunch was served at the Air Force Memorial, followed by visits to the WWII, Korean, and Vietnam Memorials.
On the trip back to Shenandoah, the group encountered an unexpected and very impressive event.  Their bus was met at the Rockingham County line by a motorcade of fire and police vehicles, complete with flags and blaring horns, to escort them back into town and to the Fair Grounds, where they were also met by many Sunnyside families and friends!
And that is how a tired but very grateful group returned to the Fair Grounds shortly after 5 pm for dinner and music with their families.  Each veteran received a polo shirt, and each will also receive a special book of photos taken during the day.  John Speer said that the most moving part of the day was the Changing of the Guard, a sentiment echoed by many of those who participated.  What a wonderful way to thank our veterans for their service to our country!
Here is a wonderful slide show of photos by Mary Rouse following our veterans on their trip.
Slideshow
--Linda Bradley