Veteran John Thompson
John Thompson
John Thompson, a resident at Sunnyside since 1994, was born in Choctaw County, Mississippi on June 4, 1925. He describes his early life with his small family of parents and  three siblings as simple, uncomplicated and happy  Though John was born during the great depression at a time when just about everybody was out of work and having a hard time making ends meet, his family was more fortunate.  Though not having great wealth, his dad did own a lumber mill and was able to ship fine lumber to Chicago on a regular basis.  As John grew able, his dad employed him at the mill where about 20 older men were at work.  Several of these men were African Americans, and even though the south was deeply segregated at that time, John came to know these workers on a personal basis as friends.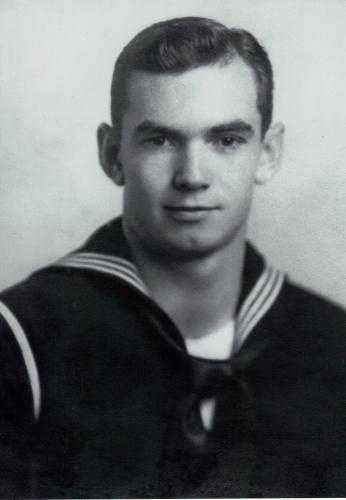 John's family lived near the French Camp Academy, a Presbyterian boarding school for secondary education, so John was able to attend there for his high school education while living at home.   He remembers enjoying sports at the school, and was on the football team during his junior and senior years.
John continued in the Presbyterian tradition after graduation in 1942 by entering Davidson College near Charlotte, North Carolina. Even at this time John was giving thought to entering the Presbyterian ministry, but America had already entered WW II, and John felt the urge to enlist in the service.  In March, 1943 at age 17 he enlisted in the Navy under a minority contract requiring  him to stay in the service until age 21, which enabled him to choose his branch of service.
After Boot Camp in San Diego, he was sent to the Navy's Hospital Corps School in San Francisco for training. On completion of his training he was assigned to the USS Doyen, a troop ship, along with 20 other corpsmen.  This ship, loaded with Marines, soon found itself involved in the "island hopping war" in the Pacific.
John remembers several terrifying experiences involving taking care of the wounded during his time aboard the Doyen. One especially hard experience was during the battle of Tarawa, an island held by the Japanese.  During the struggle to conquer this island,  apparently an over-anxious commander had attempted to put his troops off the ship,  which had become stuck on a Coral reef,  before they were near enough to the beach.  The troops were in deep water and unable to maintain themselves with their heavy packs.  They and the ship  became easy targets for the heavy gunfire of the Japanese.  John says it was a brutal day, possibly one of the bloodiest battles of the Pacific war, and many of the wounded were brought back to John's ship.
One experience remains very vivid to him. A young Marine was brought aboard the ship with a wound in his neck, and after examining him, the doctor said that he had no chance of living as the bullet had gone all the way through his neck where several vital arteries were located.  So the man was put aside and left to die while attention was given to others who had a better chance.  But the next morning the Marine was alive and awake;  the doctor found that the bullet had missed all the places that would have been fatal.
Part of the time that the Doyen was in the Pacific was spent in going back to Hawaii and San Francisco. On the ship's returning from the Marshall Islands, John received orders to Asbury Park, New Jersey to attend a midshipman's school in preparation for him to go to Hampden Sydney College as a V-12 student.
Before very long the war in the Pacific was winding down, and John was transferred to the Navy's ROTC in Princeton, New Jersey. He made the decision in 1946 to get out of the program in order to exit the Navy, but then found that he must stay in a little longer as he had signed up originally until he reached age 21. When he was finally discharged on June 4, 1946 he was given both his travel expense back to Mississippi and his discharge pay.  He says that he never felt so rich in his life as he did with all that cash money in his pocket.
After his discharge he returned to Hampden Sydney under the G I Bill, and graduated from there in 1948. By that time he again felt a strong call to the ministry, and in response he entered the Union Theological Seminary of Richmond, Virginia in preparation.
While in Hampden Sydney John met a young lady named Sue Rae Oliver, and he married her in 1947. Together they have three children, John, Jr., Joan, and Philip.  John retired from the ministry in 1987.and fully enjoys his retirement.  He and Sue are now happy residents of the Sunnyside community.
.We want to express our gratitude to John for his service to our nation, and especially for the help he rendered to the maimed and wounded during his time in the Pacific.
As told to Dick Young