Veteran Richard Anderson Forbes
Richard Anderson Forbes
"The child that is born on the Sabbath is loving and wise and useful and gay" so read his mother's cross-stitched sampler. The child was born in Culpeper, Virginia on Sunday, March 3, 1929. Dick, his older sister and a younger brother grew up in a row house downtown Culpeper a few feet from Main Street which was the main artery through the town for three busy highways. Dick survived playing "hide and seek" among the parked cars. In summers he cooled off in a Mountain Run swimming hole and picnicked with his family in Shenandoah National Park. Dick's father was in banking and insurance and his mother (Frances Stringfellow Forbes) was an accomplished cook and seamstress. While money was tight during the Great Depression, they never felt poor. In 1947 they left Culpeper and family roots and moved to Newport News where Dick had his senior year in high school. Living on the banks of the James River in Tidewater was quite a change from being near the Blue Ridge Mountains.
Music was an important part of Dick's early life. He took piano lessons, sang in choirs, and played the trombone in the high school band. His piano teacher took her best students each year to Richmond for competitions and Dick fared well. His talent and interest in music and his success in competition led him to seriously consider a career as a concert pianist. To aid in this important decision, he parent sent him to the Johnson O'Connor Human Engineering Laboratory in Philadelphia for evaluation. The aptitude and personality inventories revealed high musical talent, but also indicated that he possessed personality traits which would not tolerate the many hours of practice required to be a concert pianist. The counselors recommended a career working with people with music as an avocation.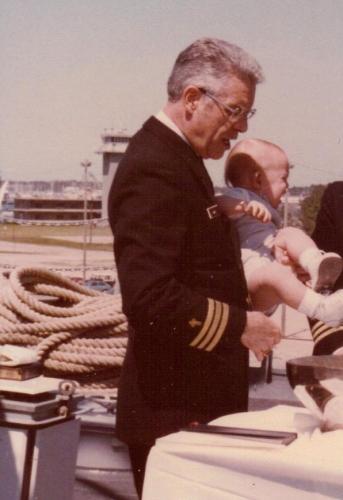 There was a Naval Reserve Training Station near his home in Newport News and at age 18 Dick decided to join and began attending drills. Almost immediately he was sent on a training cruise on a destroyer escort to Bermuda. On the return voyage a hurricane gave them very rough seas but in spite of sea sickness, Dick stuck with the Navy. He started college at the Norfolk Division of the William and Mary and VPI, and then volunteered for active duty in the Reserves. He was accepted and told that he would be notified when and where to report. Several months passed and no word was received. During the summer he worked as a life guard and there he met Jean Frances Cake, his future wife. He continued his studies at William and Mary and still did not hear about his active duty request. On December 21, 1951 during his senior year of college, he and Jean were married at First Presbyterian Church in Newport News.
In January the couple made a trip to Washington to the Bureau of Naval Personnel to see if the Navy still wanted him. He discovered that his papers had been misplaced and he was to report to Norfolk Naval Base for duty following graduation. He applied for Officer Candidate School and was accepted. He successfully completed the rugged crash course at Newport, Rhode Island and was proud to be commissioned an Ensign in December of 1952. He was ordered to the Naval Amphibious Base at Little Creek near Norfolk, Virginia for additional training and then was assigned to the USS Chilton (APA-38). Later he was ordered to Bath, Maine where the LST-1160 was being built. He and his wife Jean enjoyed the hospitality of the local folks and the beautiful New England fall foliage along the Kennebec River. The LST was commissioned as the Traverse County with Dick as Engineering Officer although his college degree was in business administration. This was corrected after the vessel was underway in early 1953 and he was made Supply Officer.
The ship, based at Little Creek, participated in several exercises in the Caribbean and that was as far from home as his duty took him. After three years of active duty he transferred to the Ready Reserves in 1955 and participated in monthly drills, annual two-week training assignments, and readiness programs until retirement.
In civilian life he worked in the Montgomery Ward managerial training program and in the Personnel Department at the Newport News Shipbuilding and Dry Dock Company. Dick was a student at Union Theological Seminary in Richmond, Virginia from 1965 through 1968 and earned a Master of Divinity degree. He held three pastorates in Presbyterian Churches in Weems and Newport News Virginia and in Martinsburg, West Virginia. While a fulltime pastor, he served as a Chaplain in the Naval Reserve and two-week training duties took him to Navy, Coast Guard, and Marine installations along the east coast of the U. S.
His memories include:
Baptizing the Commander-in Chief's infant son and others on board ship using the inverted ship's bell as a font,
Making pastoral calls in a boat to light houses in the Chesapeake Bay,
Providing housing on shipboard at Mardi-Gras in New Orleans for visiting school bands,
Serving twice as the Chaplain at a Coast Guard station in Borinquin, Puerto Rico in February,
Officiating at a burial at sea.
Dick retired from the Naval Reserves as Commander at the mandatory age of sixty. After retiring from fulltime ministry he continued work in five interim pastorates in churches in the Shenandoah Valley.
Beginning in 1968 the couple became avid campers and as time became available, they made extensive trips across the United States and Canada and visited National and State Parks, family, and friends along the way. In 2002, Dick and Jean moved to the Sunnyside Community, where they appreciated the activities and friendships and were grateful for the opportunity to continue spending time with their three children and grandchildren.
As told to Bill Blair