Veteran Robert Field
Robert Field
Bob was born in Philadelphia, Pennsylvania on February 5, 1925 to Frederick and Edna Field. He had a happy childhood and remembers many days spent playing in the neighborhood with other boys his age. Around the corner from the row house in which he grew up was a large park with a lake and a merry-go–round. Here Bob and his friends played and swam in the summer, and ice skated in the winter. His parents provided for Bob and his sister a secure Christian home which was both inspirational and secure. Also, the large Tioga Presbyterian was a major influence in his early life. There he worshiped, attended Sunday school, and sang in choirs and a quartet.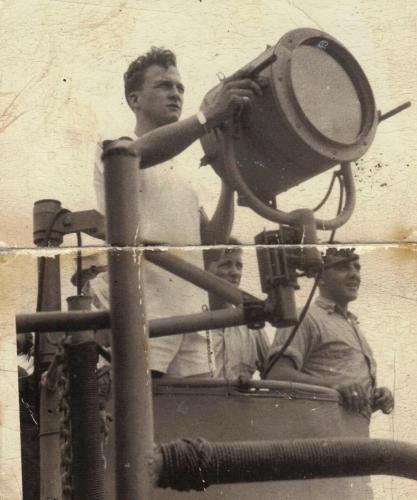 In 1943 at age 18, Bob enlisted in the U. S. Navy. He received his basic training at Sampson, New York and vividly recalls one entire week of KP duty. Following boot camp he was assigned to a newly commissioned ship, a patrol craft known as a submarine chaser and used to find and destroy enemy submarines. The ship was assigned patrol duty between Cuba and the Panama Canal and not one cargo ship was lost during the assignment. Bob was a Radioman, 1st Class and was responsible for receiving and sending radio messages between the vessel and Washington, Cuba, and the Panama Canal. As a result of his duties, Bob developed keyboard skills which he has used throughout his life.
After the end of the war in Europe, Bob's ship was in Long Beach, California awaiting assignment to the Pacific Theater when the atomic bombs were dropped on Japan and the war ended. His ship was ordered to Astoria, Oregon where it was decommissioned and taken out of service. Bob left the Navy in 1946 after spending most of his naval duty on the same vessel.
When reflecting on his military service, Bob notes that it was a period of growth for him as a young man. He saw many sailors who profited from their military experience, but he also observed others who took the wrong paths and lost their way. When the skipper of his ship was transferred, he learned that no one was indispensable and that others could assume duties and do a good job. One humorous event stands out in his memory. While on patrol, their primitive sonar identified an object which they believed to be a German submarine. After following it a great distance in the Atlantic, they discovered that they were following a whale.
As was the case for many veterans, Bob took advantage of the G. I. Bill and enrolled at Westminster College in Pennsylvania and graduated in 1949. After two years at Union Theological Seminary he served as a student pastor at a Presbyterian church in North Miami Beach, Florida. While there his first wife, Katherine E. McDonald died after five years of marriage. Following his loss, Bob returned to Richmond and completed his education for the ministry at Union Seminary. While completing his seminary studies, he married Doris Lucille Gammon in 1953.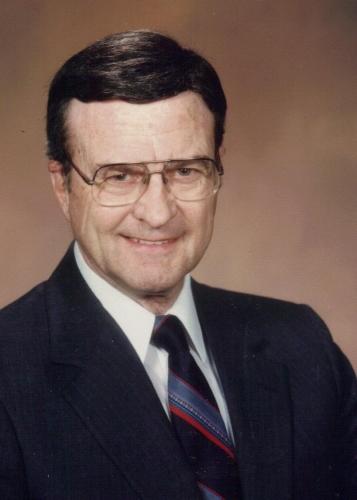 Bob was ordained in 1954 by Winchester Presbytery and was installed as the pastor of the Presbyterian churches at Berkeley Springs, Duckwall, and New Hope in West Virginia. During his pastoral career he served churches in Roanoke, Virginia, Bedford, Virginia, Petersburg, West Virginia, Pinehurst, North Carolina, and Mt. Solon, Virginia. He concluded his last fulltime pastorate at the Mossy Creek Presbyterian Church near Mt. Solon in 1990 and was honorably retired by Shenandoah Presbytery.
Following retirement, Bob and Doris moved to their cottage on the grounds of the Massanetta Springs Conference Center and then moved into the Sunnyside Retirement Community. In retirement he continued to serve local churches as a supply minister including the Augusta Stone Church in Augusta County Virginia and the Mt. Olive Church located west of Harrisonburg. During retirement the couple enjoyed the increased time to spend with their children, one son and three daughters, and 14 grandchildren.
In reflecting upon his military service and his career in the church, Bob stated: "The United States is greatest nation in the world and I am very proud of my military service." He is concerned about the work ethic evident during the war years is being lost and that later generations are becoming too materialistic.
As told to Bill Blair