The Real ID Driver's License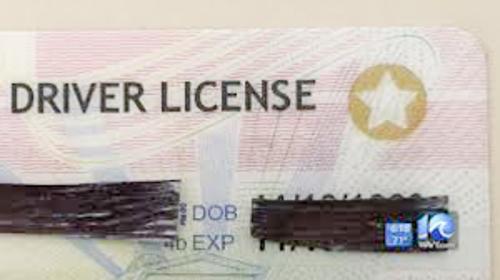 Are you planning an airline flight to Texas to visit grandchildren in the fall? Or perhaps looking forward to flying to Florida for a week or two of sunshine next winter?
If you will be scheduling a domestic airline flight after October 1, you will have two options to present a federally compliant credential when you go through TSA screening:
• A REAL ID driver's license displaying a small star in the upper-right corner, or • One of several other forms of federally recognized ID. Here is the full list of alternative federally accepted identifications:    - U.S. passport    - U.S. passport card    - DHS trusted traveler cards (Global Entry, NEXUS, SENTRI, FAST)    - U.S. Department of Defense ID, including IDs issued to dependents    - Permanent resident card    - Border crossing card    - Federally recognized, tribal-issued photo ID    -  HSPD-12 PIV card    - Foreign government-issued passport    - Canadian provincial driver's license or Indian and Northern Affairs Canada card    - Transportation Worker Identification Credential    - U.S. Citizenship and Immigration Services Employment Authorization Card (I-766)    - U.S. Merchant Mariner Credential
So how do you go about getting a REAL ID driver's license?
First of all, the REAL ID is optional for Virginians. You still can get either a REAL ID driver's license or ID or a standard driver's license or ID. If you choose to stick with a standard license or ID, the next time you renew, it will display "Federal Limits Apply" in the upper right corner. This will mean that you must present one of the alternative forms of federally accepted identifications listed above if you want to board a domestic flight.
For a REAL ID, you must apply in person and pay a one-time $10 fee, in addition to the standard driver's license or identification card fees. For example, a standard driver's license renewal costs $32, while a standard driver's license replacement costs $20.
You also must provide the DMV with physical documentation of your identity, legal presence, and Virginia residency and, if applicable, name change. There are many documents you can use, but the following are examples of commonly used documents:
One from this category: - Unexpired U.S. passport or U.S. birth certificate One from this category: - Social Security card or W-2 form displaying full nine-digit number Two from this category: - Valid Virginia driver's license, recent utility bills, mortgage statement, or rental lease agreements displaying current residential street address, not a P.O. Box.
NOTE: All documents must be originals and will be subject to verification; however, printouts of acceptable online residency documents can be used as proof of residency. Temporary documents and photocopies of documents will not be accepted. You may redact (blackout/whiteout) sensitive financial information.
IMPORTANT: If the name on your identity document is different than your legal name (for example, the name on your birth certificate vs. the name on your current VA driver's license), you must also bring as many documents as needed to show how your name has changed, e.g., marriage certificates or divorce decrees. Multiple documents may be necessary if your name has changed more than once.
NOW FOR THE GOOD NEWS!
Although you can visit the Harrisonburg DMV office in person at any time, a representative from the Virginia Department of Motor Vehicles will be here in the Sunnyside Room from 10 am-3 pm on Wednesday, April 22. Be sure to check with the FUNSIDE, Channel 970, and the Sunnyside Times website for updated information on the DMV visit!
You can also visit www.dmvNOW.com/REALID for more information. An excellent video is available on that site.
--Linda Bradley