Musings from the Sunnyside Library
Color is popping up everywhere on our Sunnyside Campus! It puts a spring in our step and hopefully brings the urge to read on the porch or balcony to our minds!
Eiland Center Library
We have launched the Library 2 Go program at the Eiland Center. Each week a volunteer brings a cart with books and magazines to the rooms of residents so they can choose their reading material for the week. This is an opportunity to interact with each other but also to share the joy reading with one another.
We have also begun our one-on-one reading program. This is proving to be a joy to our AL residents, as well.
We have several new titles of books in the Main Room of the Eiland Center Library. Check them out.
Highlands Library
Have you tried the magnifier/reader? Pat Armstrong says, "What a delight to read the newspaper."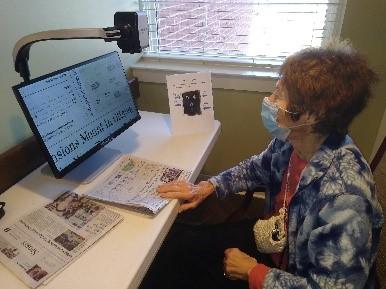 Come to the Highlands Library and try it out! And while there, check out the new books that we have placed on New Arrivals shelves.
Book Clubs
Sunny Readers
May 11—Trip to Richmond to the Maggie L. Walker National Historic Site and the Virginia Women's Monument: Voices from the Garden is planned. There will be a few seats available on the bus for other residents. Watch for more info from Layna!
June 8, 3:00 p.m., 1020 Glen Lea Lane

The Rent Collector, by Cameron Wright
Shenandoah Readers—9:30 a.m., Shenandoah Room
May 24, The Merlot Murders by Ellen Crosby
Who Dun It Club—1:30 p.m. Sunnyside Room
May 4, Mr. Flood's Last Resort by Jess Kidd
June 1, Bruno, Chief of Police by Martin Walker
July 6, The Polish Officer, by Alan Furst