Adopt a Birdhouse Program Begins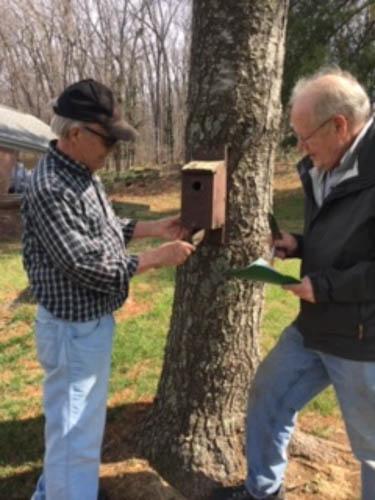 The Green Committee of Sunnyside has begun a program called "Adopt a Birdhouse" in an effort to enhance our campus bird life by attracting bird families to nest and raise young in safe, clean birdhouses placed and maintained by residents.
Currently, we have 54 known birdhouses in many places on our campus and behind many cottages, which are maintained, or not, by a resident. Some need repair and some need to be maintained by an annual cleaning. They have all been numbered with a black permanent marker for ease of location.
Some of the houses are built for bluebirds with a specific size for the hole, height from the ground and entrance facing east. Bluebirds also are very territorial and like houses 20 to 30 feet apart, according to the VA Bluebird Society. They also prefer boxes adjacent to an open field and a nearby water source. 
There are many other types of "cavity-nesting" birds, such as wrens, sparrows, woodpeckers, chickadees, nuthatches, tufted-tit mice and flycatchers, who also may seek out a birdhouse.
The Green Committee would like to get in contact with residents:
Who will adopt the birdhouse nearest their cottage, which they already may be doing;
Who would like to have a bluebird house supplied and posted by the Green Committee; or
Who would like to adopt a birdhouse somewhere on the Sunnyside campus.
The responsibilities of adoption are simply to watch if a bird family moves in, to clean out the old nesting material once a year, usually in the early spring, and to report any need for other maintenance to the Green Committee.
Let us know if you want to "Adopt a Birdhouse."
Contact: Andy Sale at 8433 ( andysale25@gmail.com ), Galen Moses at 8638 ( galenmoses@aol.com ) or Sue Johnson at 8551 ( suesyj@ntelos.net)
--Andy Sale