Make It a Clean Sweep Next Friday!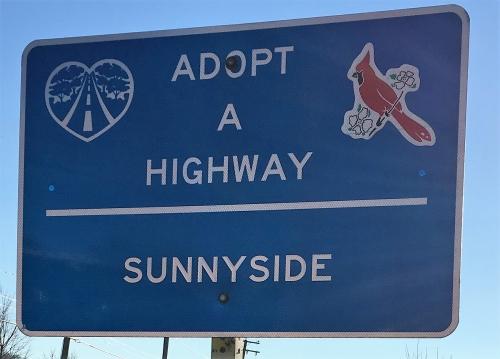 Sunnyside Adopt-a-Highway
"It's just good, responsible stewardship and neighborly behavior." That's why Andy Sale said he and his wife, Frances, decided to organize a roadside cleanup effort with Sunnyside residents along Massanetta Springs Road a couple of years ago.
The next cleanup will take place next Friday, April 21, from 10 a.m. to noon. Any resident able to walk three-fourths of a mile is invited to join in the effort. Everyone will meet at the upper entrance to Sunnyside and one group will go up the road to Hwy. 33 and back while another group will go down the road to the Shen Lake intersection and back. Consequently, each group will only go less than a mile total. If you plan to go, contact Andy Sale at 8433 or andysale@gmail.com
"VDOT (Virginia Department of Transportation) is very explicit on safety issues," Sale said, noting he will conduct a safety training session before anyone heads out. Each group will work along the road facing traffic, with at least one person always watching out for vehicles. By doing it on a weekday morning, there is much less traffic than on a weekend, Sale noted.
VDOT provides safety vests, gloves, tongs and trash bags, along with instructions on what to pick up and what to leave; the latter includes dead animals, needles, drug paraphernalia, and broken glass. The location of any dead animals will be noted so that VDOT can pick them up later.
Before coming to Sunnyside, Sale said he had often visited Massanetta Springs Conference Center and saw trash "from one end of the road to the other." So when he moved here, he and Frances decided to do something about it. The campus Green Committee, of which he is a member, supported the road cleanup idea, as did Executive Director Josh Lyons and the Marketing Department.
Sale said he and Frances did the first cleanup in April 2015 with two Sunnyside residents and a group of volunteers from James Madison University, collecting about seven bags of trash. They also took notices to each resident along the road telling them what they were doing and encouraging them to keep the road in front of their place picked up. The result was that the next spring they only got three to four bags of trash.
"Every time we've done it we've gotten less trash," he said.
The tangible "reward" for the effort is an "Adopt A Road" sign put up by VDOT at both ends of the road noting that the work in that section is done by Sunnyside. To qualify for a sign, the cleanup must be done at least twice a year, generally in April and October before and after the mowing season.
"The idea of 'leave no trace' is very important to us," Sale said, referring to the popular set of environmental principles. --Galen Moses