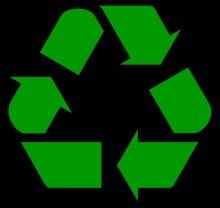 Recycling is a daily activity for many as well as a great way to protect our environment and stimulate our economy. Recycling saves resources, prevents pollution, supports public health, and creates jobs. It saves money, avoids landfills, and best of all, it's easy.
The Green Committee hopes all of us will find ways to recycle as part of our care for the Earth with which we have been blessed
Ways to Recycle (Follow the site's guidelines carefully)
Harrisonburg/Rockingham has numerous sites that accept many presorted items. There is also a mobile unit that goes to different locations including the Farmer's Market on Saturday.  For more information visit: https://www.harrisonburgva.gov/recycling
The closest recycling center is at 2055 Beery Road (Open 8am-4pm Mon-Fri & Sat 8am-noon). The landfill is at 813 Greendale Road (Open Mon-Sat 7am-4:30pm)

Materials accepted in marked bins:  Please presort and clean your recyclables. 
#1 Plastic -transparent only incl. "clamshells")

#2 Plastic

Plastic bags

Household Batteries

Aluminum Beverage Cans

Tin Cans

Glass

Office Paper (Shredded or White)

Newspaper, magazines, junk mail

Cardboard (incl manilla envelopes)

Yard debris, scrap metal, bulk item
(only at the recycling center)

Materials NOT accepted: 
#3-#7 Plastic

Opaque #1 plastic (non-transparent)

Mixed material items (i.e. manilla envelope with interior plastic cushion)

Household Hazardous Waste (collected at landfill twice a year - May 7 & October 15, 2022)
(Plastic clamshells not accepted).
Black Bear Composting offers a resident composting service. They provide the bin and instructions. You fill the bin. They pick up the bin. Once a year you can pick up finished compost. For more information visit: https://www.blackbearcomposting.com You can also leave food scraps at the CAAV bins at the Farmer's market. https://climateactionallianceofthevalley.org/composting/

Hickory Cove residents get together and bring their recycling to the landfill as a neighborhood.

Many stores have drop-off bins for plastic bags and bottles. This website gives good basic information and locations for this recycling: https://how2recycle.info/sdo

Prescription medications can be taken to Sentara RMH, Harrisonburg Police Department (HPD) lobby, CVS, Medicap pharmacies for disposal. Twice a year (April & October) HPD participates in the National Prescription Drug Take Back Day.