Massanetta Springs Road Cleaned Up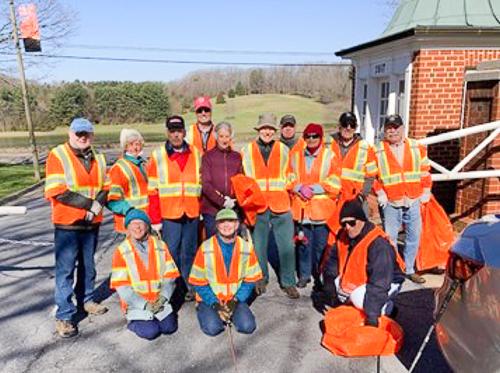 Fourteen Sunnyside residents took part in the semiannual cleanup of Massanetta Springs Road on Saturday, April 2. The cleanup is organized in the spring and fall by Andy and Frances Sale, who coordinate with the Virginia Department of Transportation (VDOT) to get safety signs at each end of the 1.5 mile section of road, along with bright safety vests, gloves, pickup tools and trash bags.
The group met at the upper Sunnyside entrance at 10 a.m., where Andy reviewed VDOT safety instructions and "Bag It, Move It or Leave It" instructions, along with distributing equipment. Two teams were then formed, one walking to the Shen Lake intersection and back and the other to Route 33 and back picking up roadside trash along the way.
The teams finished their work in less than two hours, filling six large orange trash bags that were picked up later by VDOT. The tangible "reward" for the effort is an "Adopt A Road" sign put up by VDOT at both ends of the road, noting that the work in that section is done by Sunnyside residents. This is the sixth year the cleanup has been conducted.
Those taking part in the cleanup were: Andy and Frances Sale, Ruth Williams, Cindy Westley, Bill Dent, Bill Daigle, George Gibbs, Linda Gibbs, Galen Moses, Bernie Smith, John Smith, Doug Pafford, Sharon Pafford and Gail Fisher.