Do you love to meet new residents? Do you like helping them settle in to Sunnyside?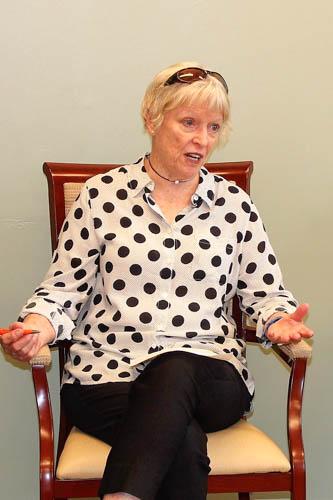 We have so many treasures here at Sunnyside.  One is Frances Sale, the person who established the Sunnyside Neighbors program in the fall of 2016. She saw the need to have "old-time" residents connect with new residents to welcome them personally to the community and provide information and help them by identifying resources that are available here.
Those who have already volunteered met for a Neighbor's Meeting on May 9, 2019.  Chaplain Pat Spears was on hand to describe the chaplains' role in identifying resources.  She explained chaplains are the spiritual care providers as well as a non-anxious presence to meet residents where they are.  These wonderful people are well versed in helping residents cope with the changes in our lives.  This has been described to me as a "birthday benefit."  I'm not so sure.
To be a Neighbor to a new resident, think about when you first moved in.  All things are new!  It is a time of anxiety for the new residents.  Chaplains are a wonderful help with transitions, grief support, and structure.  Grief support is very important in that everyone who moves to Sunnyside loses their unique way of life.  This hurts.  There is a need to recognize this and allow yourself to grieve that loss.
New residents also experience a living style they may not be familiar with.  Neighbors are great resources to guide residents to just the kind of support they need. A great way for residents to join in with the Neighbors program is to write out what did or would have helped them transition from newcomer to resident. You may be surprised in how much you have to offer!
We realize that everyone learns differently.  Newcomers are inundated with so much information, it's easy to forget a lot of what they have heard.  We can only take in so much.  New resident anxiety affects your memory.  When we are anxious or stressed, it is easy to forget names and places. With that in mind, the first meeting with a new resident is to introduce yourself and provide a packet of information they can review on their own time when they are ready.  These packets are already prepared and available at the Highlands reception desk.  Ask when would be a good time to come back and visit with them, take them to lunch at the Bistro; whatever you are comfortable doing.  We always check in with the new resident from time to time to make sure they know there are resources and guides to help them become part of our community.
A new resident might be an introvert or extrovert.  Discerning that is a way to decide how best to support that particular new resident.   The role of the Neighbor is to support new residents where they are.  A good way to do this is to provide information they would immediately need (closest grocery store, when NOT to go downtown, a farmers' market).
You can do practical things; a gift card for immediate needs, a set of travel/picnic items (utensils, paper plates, cups, COFFEE, sugar, and CREAMER!). That last one is critical.  At least for me.  A breakfast basket would be good, as well as some locations AND directions for breakfast places.
The Neighbors program is a good way to meet new residents and encourage them to integrate into the community. It is also a way to meet new residents and even to find a friend.  If this sounds like something that calls to you, please call Frances Sale at 568-8433. The Team would love to have you.  It is very rewarding to see someone you have been a Neighbor to enjoying the wonderful opportunities and know you had a part of getting them to that point!
--Kat Marlowe, photos by Mary Rouse