Welcome New Neighbors for New Residents!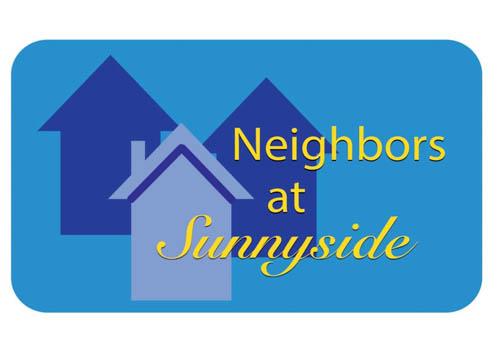 Two years ago, Frances Sale discussed with Robin Golliday an idea she had for ways to encourage established residents (Neighbors) to connect with new residents in the Highlands and the Village to help integrate them into the community in an intentional, caring manner. They pursued the idea and created a resident-led group to develop and execute the program. Team members were selected for the group, volunteers came forward to be Neighbors, and the adventure began.
Neighbors encourage their New Resident in different ways, based on what the new resident brings with them. For example, if the resident is a Valley native, no need to provide them with a map of Harrisonburg! However, explaining the ins and outs of Sunnyside can be very helpful.
In 2018, the Neighbors Program matched 32 Neighbors with 32 residents. Taking into consideration the number of couples, about 87 people were involved.
The program offers town tours led by Lynda Gibbs with driver Alex Banks for those who are not familiar with the area. In the previous two years, the Neighbors Program team has also hosted an afternoon tea for new residents and their neighbors.
One Neighbor commented that she particularly enjoyed hearing the different reasons new residents had for choosing Sunnyside. No surprise, Sunnyside's welcoming and friendly spirit is often mentioned.
As the new year begins, any resident can volunteer to take part in this wonderful program. The commitment for one year involves at least three specific contacts. You can do simple things, like meet them for lunch or coffee, invite them to a Sunnyside activity they might enjoy, or just visit and get to know how to best help them make the transition from New Resident to a resident comfortable with their life at Sunnyside. It is also a great way to meet new residents who would not normally cross a neighbor's path.
If you are interested in this outreach, the next meeting is on February 14, 2019, at 10:00 am in the Allegheny Room. There will be an overview of the program as well as plans for the future. We will also have a guest speaker, Nancy Shomo, a therapist with Sentara RMH, who will give us some tips on being an encouraging friend to a new resident. She has a wealth of information regarding life changes, including moving to a CCRC. Nancy will also take questions after her presentation.
Please come and learn how the program is doing. If you are interested or have questions, please contact Frances Sale at 8433.
Oh! I forgot about the cookies! We will have cookies and other light refreshments for those attending the meeting.
--Kat Marlowe