Furniture and Yard Sales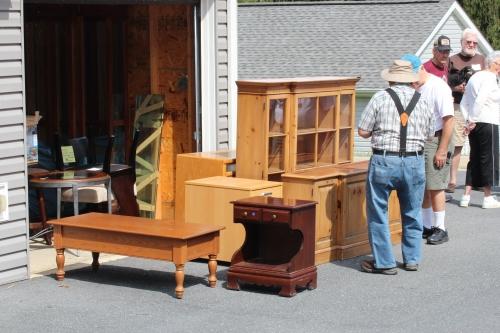 Both furniture sales and yard sales are conducted by a volunteer sales team that reports to the Sunny Treasures Committee. The furniture sales team accepts furniture, electronics, tools, and most large items.
First Friday Furniture Sales
The First Friday Furniture Sales (also known as "open bin sales") are held each year in March, May-August, and October-December. These sales are scheduled from 11:00 a.m. until 1:00 p.m. at the Shrum Court storage units. Publicly-advertised furniture sales are held each year in April and September.
Between sales, to ask about our inventory or to volunteer to help, contact team leaders Ennis Van Duyn at 568-8470 or email him at ennishv9@gmail.com or Terry Morris at 568-8448 or email him at tmorris@lumos.net.
If your donations consist of small items (which you are able to carry), you can drop them off at the reception desks at either the Highlands or the Eiland Center.
For larger donations and all furniture: 1) fill out a Maintenance Request Form (paper copies available outside Robert Shenk's office) or 2) fill out an on-line Maintenance Request Form found on the Resident App, or 3) call or email Kella Cook at (568) 8496 or kcook@sunnyside.cc