Sunny Treasures Gift Shop
The Sunny Treasures Gift Shop displays and sells a wide variety of donated items, including resident-made consignments, greeting cards and jewelry. We have seasonal sales which include a special Christmas Sale held in late November/early December each year.
Hours
The Gift Shop is open from 11:00 a.m. until 4:00 p.m. on Tuesday, Wednesday and Friday, and for special events as determined by the Sunny Treasures Committee. Books are available for sale 24/7 and payment is on the honor system. The book carts can be found in the lobby area at the lower entrance to the parking lot.
Clerks
The clerks welcome and assist customers and keep the shop clean and tidy. Two clerks are scheduled for each shift. The shifts are from 11:00 a.m. until 1:30 p.m. and from 1:30 p.m. until 4:00 p.m. A clerk is scheduled for one shift a month, but some volunteers enjoy working additional hours and work more than one shift. For further information on training and scheduling, call Phyllis Robinson at 437-8812.
How to Donate
If your donations consist of small items (which you are able to carry), you can drop them off at the reception desks at either the Highlands or the Eiland Center. For larger donations and all furniture: 1) fill out a Maintenance Request Form (paper copies available outside Robert Shenk's office) or 2) fill out an on-line Maintenance Request Form found on the Community/Resident App, or 3) call/email Kella Cook at 568-8496 /
kcook@sunnyside.cc
Sunny Treasures - Welcome Back!!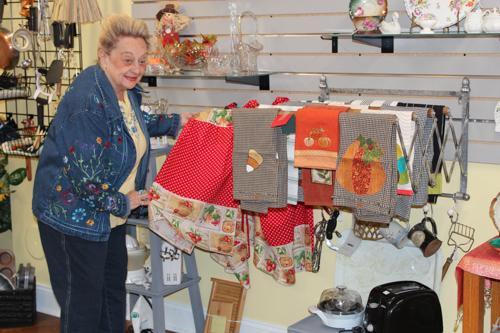 After a summer-long hiatus, we are excited to welcome back the Sunny Treasures Gift Shop. A soft opening was held on Tuesday, September 12, followed by a grand opening on Friday, September 15. This has been a long journey for the many volunteers who make the gift shop such a gift to our campus. The Sunny Treasures Committee was notified last spring that the shop would be part of the first floor renovations in the Eiland Center. Decisions, decisions, decisions – What would be packed up and kept? What could be sold? How to sort this all out? How would moving occur? Where would everything be stored? When could they open up again?